Keeping up with the Ball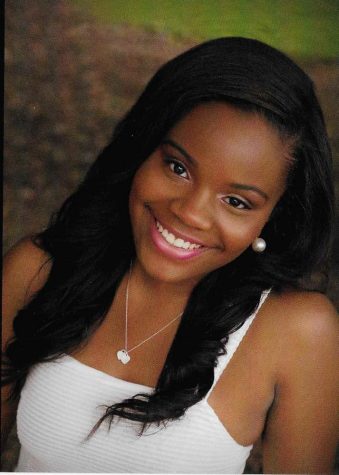 The girl whose spoken word caused a rumble across the H-F community which escalated into national outrage is now finishing her first year on a full scholarship at Florida A&M.
H-F alum Taiylar Ball made news when H-F administration barred her from attending prom.
Despite that unfortunate circumstance, Ball got a lot of support from allies who felt her speech was empowering and the punishment unfair.
"I felt amazing that people saw my story and could either relate or empathize with me. It's a blessing when people don't know you personally but can still understand you," Ball said.
Journeying to college, the support followed her; students were very accepting and proud of her choice to use her voice for such a powerful message despite the repercussions.
"I have a huge presence at school. The school has put me on a pedestal from the decision that I made and I have a lot of support here. I am really focused on my schoolwork and doing well while giving back to my community," Ball said.
Former principal Ryan Pitcock said the punishment was because of her "offensive actions"  during the 2016 senior talent show.
Ball used the "N" word in a spoken word piece in front of the 2016 graduating class. That part of her speech was not approved by the sponsor and caused administration to ban her from attending her senior prom.
Looking back on the experience Ball said that it was an experience that she learned from.
"I don't think I would've changed the concept of my poem because as a writer there was a message that needed to be heard. There were people that were empowered by the poem. I probably would've ran it by the talent show coordinator," Ball said.
While Ball in the moment felt that she was being treated unfairly, a year later, looking back she can empathize with the administration.
"I would say that I am glad that the administration and I were able to come to a resolution [being able to attend graduation]. While I can understand the decision and the call they had to make I feel like they could've handled it better," Ball said.
The sponsor of the talent show Melissa Durkin said that she was unaware that the speech had been changed from the dress rehearsal performance.
"Students are informed that they must perform exactly what I see that day- including everything from the outfits to the music, " Durkin said. " This rule sheet is handed to students in person…I have copies of all these documents as well as Taiylar's signature on file agreeing to these rules."
With this year's talent show approaching, students should know that the same rules will be in place.
"Students always have the choice to ignore the rules, but obviously consequences follow when students do not abide by them. Overall, I'm not worried about students making poor choices," Durkin said.
Ball's advice for any current H-F student is to work hard and be yourself.
"I would say prepare yourself well for college. I got a lot of english classes and history classes out the way that I'm glad I did. Do some community service. Stay true to yourself and do what's best for you," Ball said.