High school sports politics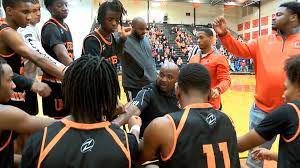 High school sports are an amazing thing to do because they bring great memories, no matter what sport you play. However, it could also bring terrible memories. Politics in high school sports are very much there and can ruin the dreams of student-athletes. Things like favoritism, playing time or attitude can hold people back from playing.
Student-athletes spend countless days and hours working hard to get better in hopes of receiving a scholarship for their sport. Some athletes have been training ever since they were young kids and have been dreaming of playing at the highest level. For some, that dream crashes and burns. Some traits are necessary to be able to have your high school career in your hands.
Character, work ethic, and toughness are the most important characteristics in sports. Character is important because a coach is not going to play someone who has a bad attitude when things don't go their way. Character is about how you carry yourself in front of the community, your family, and the school. Character is a number one factor for college coaches because this player is becoming a part of their program. If you present yourself negatively, the coach may steer away from you. Lastly, character is huge to coaches and should matter to athletes.
Work ethic is my favorite because it shows everyone how hard you're willing to work and how effectively you can get it done. The work ethic in school is based on how well you complete work and assignments, but in sports, it's much more. To me, you have to work harder than anyone in the gym or on the field to be able to play. The way you work on and off the field determines if you really want it or not. Training in the offseason is huge and can help improve your work ethic. The training will help transform your game and performance for the next season. Work ethic is important in order to become a starter and should never stop even if you are.
The final piece is toughness. As much as people think of physical toughness, there is also mental and emotional. Being physically tough is good because you can endure anything. Mental toughness is a larger factor because you have to be able to keep fighting when your sport gets difficult. Things like conditioning and weightlifting are where mental toughness comes in; you have to be ready for it. Emotional toughness is big too because it allows you to not be affected by what anyone says to discourage you. Controlling your emotions and staying calm will keep you one step ahead of everyone.