What the FIFA Controversy Is Really About
Fifa´s decision to make Qatar the host country of the 2022 World Cup has caused controversy around the world.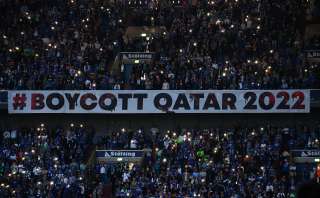 I am sure you've heard about the World Cup. To say it's controversial is the understatement of the month.
Between its host country's shady set-up and controversy between FIFA, this year's World Cup has been a decade-long fiasco that is getting more interesting as the games continue.
 Many people have been shocked at data released showing thousands of mysterious deaths since the country was announced as the host. 
Qatar reported over 400 migrant worker deaths due to building the stadium.
Qatar has also banned the sale of alcohol at the stadium, established a dress code and frequently shown their systemic sexism and homophobia. 
This should all be more than enough for FIFA to have not allowed Qatar to host the World Cup. 
Some countries threatened to pull out of the World Cup due to the controversies, but ultimately decided to stay in the competition. 
This has led to many protests during the World Cup.
FIFA has threatened to put countries and players on-field punishment for protests, forcing them to back down.
Players had started wearing armbands supporting the ¨One Love¨ campaign which promotes inclusivity in soccer. 
This was also quickly shut down by FIFA stating that they'll give out yellow cards to players wearing the armbands during the game.
What does this mean for the future of the league?
Many people have criticized and some countries are considering pulling out of the league which will change FIFA forever.
How can we be in favor of a league who doesn´t support its own players and fans? There's been some speculation about corruption within the league, specifically about officials within Fifa receiving bribes to make Qatar the host city. 
In an article by National Public Radio they discuss corruption."Over the years, various officials, both from FIFA and other organizations, have been accused of accepting or soliciting bribes to guide the World Cup to Qatar."
Many officials in the league have been banned due to corruption accusations since the decision to make Qatar the host country in 2010 including the former president of the league. 
The question is: does FIFA have a moral requirement to provide a safer environment for their fans and players, or do they focus solely on soccer and things involving the game?