H-F holds its first Turnabout since 2020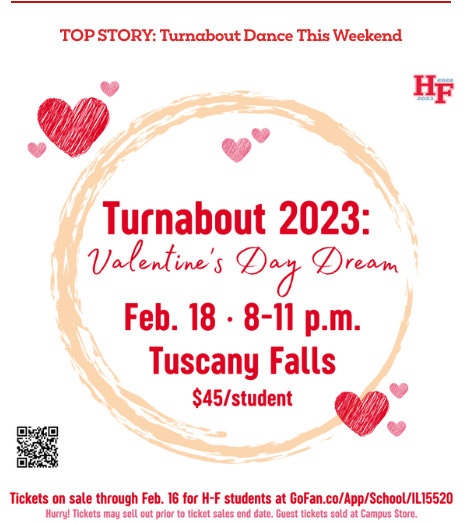 H-F held its first Turnabout Dance since 2020 on Feb. 18.
Many people expected students to be excited to attend the dance after it got canceled last year, but many decided not to attend.
So why is this?
Between the expensive tickets and feeling no reason to go, many H-F students have decided that Turnabout isn't worth it.
So what´s the reason for the tickets, which are $20 more expensive than the Homecoming tickets? 
Turnabout, unlike Homecoming, was held at a venue in Mokena and H-F provided food and drinks for students who attended. 
Many students who ended up going to the dance said it was worth the price.
Student council justified the reason for the price increase.
¨Unlike Homecoming, Turnabout will have actual food and will be at an actual venue,¨ Student Council representative Kendall Pace said. 
But, overall do H-F students think the cost is something they can get past?
Most students say no, with many stating that as their reason to not buy a ticket.
Students were also torn on the tradition in general. 
Schools around the country have changed the dance from Turnabout to Winter Formal or a Sweetheart Dance.
So should H-F change the tradition of girls asking guys, as many schools have already done? 
¨I think girls asking guys to turnabout is generally less traditional in itself. Therefore, no I don't think H-F should ditch this tradition,¨ one student said.
¨I think that nobody really follows that anyway anymore so if you change it that's fine just make it valentines dance,¨ another said.
Overall it was about a 50:50 split of changing the tradition and keeping it the same.