Gridiron: H-F's very own mock-football league.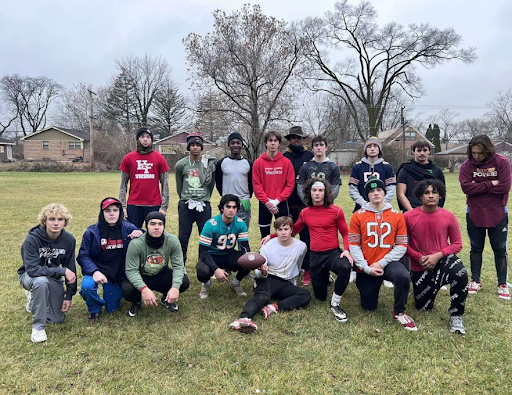 A group of H-F students have formed a mock tackle football league. 
Known as "gridiron", the group has been together playing football for years but only recently has been exploding in popularity, becoming a well-known sports group throughout the school. 
They play full tackle without any pads and draft teams before each game. This gives each game a level of spontaneity as players can come and go throughout the season. It also helps the "community aspect" because people are meeting each other and bonding over football. It heavily emphasizes inclusion which is a delightful thing to see in sports which traditionally is more restricting and competitive.
The main event at the end of each season is a "Super Bowl" which is built on the basis of Homewood players against Flossmoor players. This year, Flossmoor won 48-28.
"This is an association in which we take young men and turn them into warriors on the football field; we've expanded a lot and created a league where everyone from Homewood Flossmoor is allowed to play," said senior Niko Bilgi.
Despite some of the language Bilgi uses, Gridiron is less of a serious, legitimate football effort and more of a club. Almost all of the players have zero real football experience and the group stresses fun and a sense of family rather than strict competitiveness. They embody the spirit of nostalgic, elementary school wiffle ball games.
Gridiron dates back to 2019 and has undergone serious change. What started as a group of small, low-effort games in players yards has shifted to a well-known group that consistently makes tangible efforts to improve in both size and scale.
"It all happened so fast, everyone just started bringing friends of friends of friends and it naturally grew. Before we knew it, we were playing pretty much every week and had guys from all four grades playing. We probably had around 35-45 guys participating in games," said senior Declan Hughes.  
The official H-F Gridiron Instagram page is the central hub of information surrounding the group. Here, you can find summaries of each game, photos, and detailed statistics on players.
There's a bit of talk on the future of gridiron as it's primarily composed of seniors, most of which are going off to university, away from the Homewood-Flossmoor area and won't have the time to continue Gridiron.
Bilgi stated the importance of the group and "training the young bucks to keep the league and legacy alive once the seniors are gone."
However, many aren't concerned with the possibility of Gridiron disappearing over time. 
"Guys will always want to play football so I don't think gridiron will be going anywhere," said Hughes.
It's incredibly exciting and borderline inspirational to see a group of people bonding together over an activity, free from the restraints of any organized institution. The growth of Gridiron is just another symbol of how great the Homewood-Flossmoor community is and the importance of friendship and team-sports. 
Tradition is in many ways, a form of excellence, and establishing Gridiron as an essential part of adolescence in the H-F community could be a major step in furthering the tightly-knit community we have.