H-F's Red and White Basketball Team Took Second Downstate
On March 10, H-F's Special Olympics red and white basketball team went to Illinois State University in Normal for the IHSA state competition resulting in a second-place title overall.
This massive tournament, which according to the Illinois Special Olympics website, "typically features nearly 2,000 athletes, 550 coaches and 350 volunteers." took place over the March 10-11 weekend.
While no H-F students partook in either, in addition to high school games, this tournament also houses an Individual Skills showcase, which simply allows athletes to showcase their individual talents and includes a division for athletes in wheelchairs, and a Young Athletes bracket, which enables athletes aged 2-7 to participate as well.
On the high school side, this high-intensity tournament features seven divisions of four teams playing throughout the day, with each team being guaranteed two games.
Ultimately, this is an incredibly competitive, but simultaneously incredibly welcoming environment, as all who desire to can participate.
In order to compose the red and white team, all students in the Unified gym program are invited to join, and even those who don't desire to play can still be a part of the Unified cheer squad. As the team is coached by Brian Garland, Tiffany Mucha, Katie Nieckula, Jen Olumstad, Matt Raglione, Katie Rice and Aimee Veal, who are all Unified or Special Education gym teachers, these coaches already know their players incredibly well. This team is composed of Marco Agting, Gianna Bucci, Alyson Harris, Jasmin Harris, Josh Herman, Clinton Holmes, Faustin Kelly, Kamarion Mason, Anaya McCoy, Quinn McNellis, Beverly Nwachukwu, Eliakim "ET" Taylor and Jair "JT" Taylor, all of which have at least a year, if not more, of history under their belt with these coaches.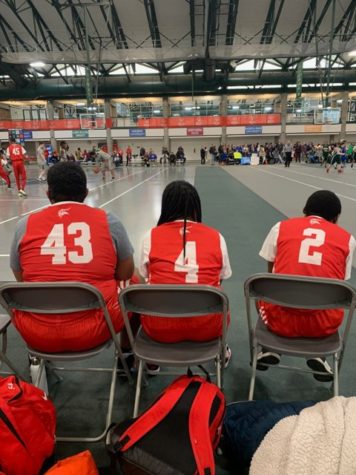 "I think we're gonna do really well because we've been practicing so hard and we have excellent communication," expressed senior Jair Taylor. "This season so far has been good because we had a lot of really committed players and a great team and we don't give up." 
In addition to this, Herman is certain that "we're gonna do great because we're really dedicated and we all definitely want to win. We've been good, we lost some, but we've been getting better and better and we're gonna win at state because we're strong." 
This sentiment was not only shared among the players but the coaches as well.
According to instructional assistant and coach Rice, because "the team did incredibly well in regular season play, hopes [were] high for the State tournament."
The team took on the Galesburg Silver Streaks in their first match, which ended in a loss of 42-60, but came out on top in their second game against Lyons Township in a 33-28 victory, which clinched them their second-place title.
In the end, coach and Special Education teacher Raglione said that while winning is always great, the players themselves are most important. 
"We've done really well," he said. "But in the end, it's really more about seeing the players grow individually than winning or losing."