New eyes on the ball: Rebuilding H-F's varsity baseball team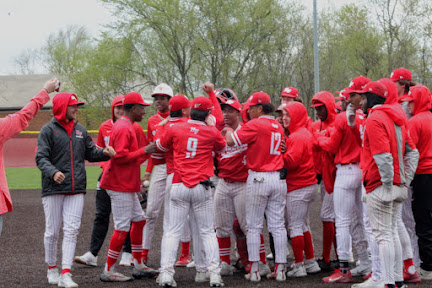 H-F's varsity baseball team has 23 seniors, one junior and one sophomore rostered this season. 
This begs the question of: will the program be able to pull off a complete rebuild of the team next year, as nearly the entire team will be graduating?
Luckily, head coach and school counselor John McCarthy is already thinking ahead when it comes to next year's team, and is confident in their growing abilities.
"Next year's lineup is already coming together," he said. "They're competing daily and building chemistry right now and creating an incredibly promising varsity team for next year." 
Though it's sad to see our seniors leave, this also means exciting prospects for other players, who may have ended up playing JV this year, simply because of the overwhelming seniority on the varsity roster.
"Starting from scratch next year could be weird because everyone has little to no varsity baseball experience, but we've all played together on the JV level so it won't be a whole new team for any of us," said JV outfielder Xavier White. "There's been a lot of doubt in the junior class and comments about how H-F baseball is going to go downhill after this year's graduation, but that's simply created a chip on the shoulder of our team more than anything."
Players like outfielder Bennett Reich are optimistic about the team's rebuild.
"I think [a rebuild] will benefit the program since it'll give the younger kids a sense of determination since there are so many open spots, but also the juniors and sophomores are really determined to pick up where we left off when we leave," Reich said.
However, this drastic change could also prove difficult for the handful of non-senior varsity players this year, as the team will look entirely different.
"I think that with the underclassmen we have on the team now, they can really step up and give the guidance needed to the rest of underclassmen coming up next year," said senior varsity infielder Kaiden Wesley."Because Trent [Roseborough] and Demir [Heidelberg] have been put in many tough situations that many underclassmen wouldn't be able to handle, yet they do their best and do what needs to be done." 
Heidelberg is already stepping up to the plate with helpful advice for the future team.
"Play like yourself. Don't feel the need to do anymore or any less than you've been doing and trust in yourself and that you're the best person on the field at all times."
Additionally, infielder Korey Mulling reminds upcoming players of what the game is all about.
"Enjoy every game and play like you have nothing to lose. Once you take away the pressure and play the game loosely, you'll perform better and have more fun," he said.
Though, despite all of the guidance, it'll be hard to mock such a tight knit team with great camaraderie like this one.
"Nobody in the state has a team as close as this one and a major part of that is a 95% senior-led group," catcher Preston Lund said. "All of us have grown up with each other for the most part, and have been looking forward to this year since our first day as Vikings."
With a record of 16-14 as of May 15, the seniors are generally torn about their final ride.
"Our senior season has really gone up and down had a lot of adversity throughout the season with losses, wins, and some more losses, but it'll all be for the better in the end because we're a good group of guys that want to win, so we'll find a way to make it happen," said Wesley.
The split record has also caused some self-reflection amongst the seniors, as this is their last season as Vikings.
"We're not off to the start we expected but the ship is turning around and we're heating up at the right time," said pitcher Vince Waterman.
But with just over 10 games left in their season, the Vikings are fighting until the end to finish out their season in a satisfying way.
"In the end," Waterman said, "This is the closest team I've ever been a part of, and it definitely shows and helps when we're all on the team fighting together."