Why Aren't Progressives Challenging Biden?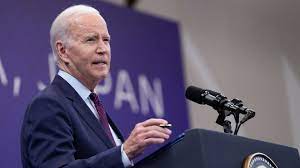 The 2024 Presidential election isn't as distant as it seems.  
The election, being held on Nov. 5, 2024, is inching nearer every day, yet the selection of candidates, particularly for the Democratic Party, is upsetting.
So far, 80-year-old incumbent Joseph Biden is essentially running for the Democratic nomination unopposed.
According to The New York Times, "self-help author and former spiritual adviser to Oprah Winfrey" Marianne Williamson is running for the second time after a failed attempt in 2020. Some argue that she is only running for more social credibility or to sell more books, which is not unlikely.  
The New York Times continued that Williamson has "promoted dubious or debunked medical theories, particularly on mental illness," which is not unlike the only other Democrat currently challenging Biden, anti-vaccine activist Robert Kennedy Jr.  While it's likely that you haven't heard Williamson's name before, Kennedy has the automatic name recognition of, well, being a Kennedy–a trait he boasts incessantly on his campaign website,  kennedy24.com.  Former President John F. Kennedy's nephew doesn't have much going for him outside of his Nepo Baby status, though, as he seems to be basing his entire campaign on his anti-vax rhetoric and gloating his family name. 
If he had any real chance at the nomination, would he be so dependent on milking the Kennedy name for all its worth? 
Many find it odd that 80-year-old Biden, who has been a federal-level politician for half a century, is not only the most obvious candidate for the Democratic nomination by far, but also seemingly the most progressive.  And, while there is still time for more candidates to throw their hats in the ring, there probably won't be many more, as incumbent candidates typically run largely unopposed by members of their own party (and there are currently no other specific Democrats predicted to run, unlike the Republican Party).
Biden has infamously low approval ratings, and many only support him for being a Democrat who was able to win the 2020 election against his predecessor.  According to The Washington Post, Biden is "a guy whom only about half of Democrats want to run, half say is too old to serve, and only about 4 in 10 approve of strongly. Just 1 in 5 say they would be enthusiastic about his winning."  
Young people, minority groups and progressives wanting to see a newer, fresher or more radical face in the Oval Office are among the most unenthused by Biden's lack of competition.  
However, it would be unfair to ignore some of the significant legislation that has been passed during Biden's presidency, such as the $1.9 trillion American Rescue Plan Act that offered stimulus packages to American families and funding to schools, small businesses and vaccine development/distribution during the Covid-19 pandemic, or the Infrastructure Investment and Jobs Act that was widely considered to be one of the most progressive and efficient infrastructure bills passed in decades or the Juneteenth National Independence Day Act.  He's also signed executive orders promoting gun control, setting climate goals and reversing the policies of his conservative predecessor.  
In this new era of the Democratic party, though, many are desperate for fair and equal representation of women, young people, people of color and other marginalized or underrepresented groups.  
Biden's image represents what many members of these groups detest–he's a caricature of the "old way" of politics.  While Biden's 50 years of experience has given him an advantage in working across the aisle to gain bipartisan support for progressive policies, and while he has made a point to represent women and people of color in his cabinet (the most diverse in U.S. history), he cannot change his identity.  
So, all things considered, I return to the main problem this election cycle: Biden is essentially running unopposed, and young or marginalized progressives are not happy about it.  
 The solution?  More young people need to be getting involved in politics.  The main reason we have so many old, out-of-reach candidates is that we're pulling from a sample size of a Senate with a median age of 65.3 years, according to the Pew Research Center, and a House of Representatives with a median age of 57.9.  
Suppose we want representation in the highest office in the nation. In that case, we need more young people involving themselves in local leadership, running for local elections, and having the ambition to campaign for higher-level positions, too.  
This way, the sample that candidates are pulled from will be one more representative of their bases, as opposed to candidates who all fit the same mold that this new generation is tired of and feels unrepresented by.