2015 NFL Predictions
This season promises to be great
2015 NFL Predictions
Introduction
We find ourselves here again. It's the start of the NFL season and there are so many questions to be answered in such a little time. Who's going to hoist the Lombardi Trophy? Which teams are going to break out? Which teams are going to disappoint? I have you covered with all the answers.
AFC East
New England: The AFC East starts and ends with Tom Brady and the New England Patriots. As we all know, Brady's four-game suspension has been overturned. I still expect the Patriots to have a tougher time than usual. Losing Darrelle Revis, Vince Wilfork and Brandon Browner certainly won't help. I do expect the Pats to start off slow (kinda) through the first quarter of the season but they will regroup and finish the season hot.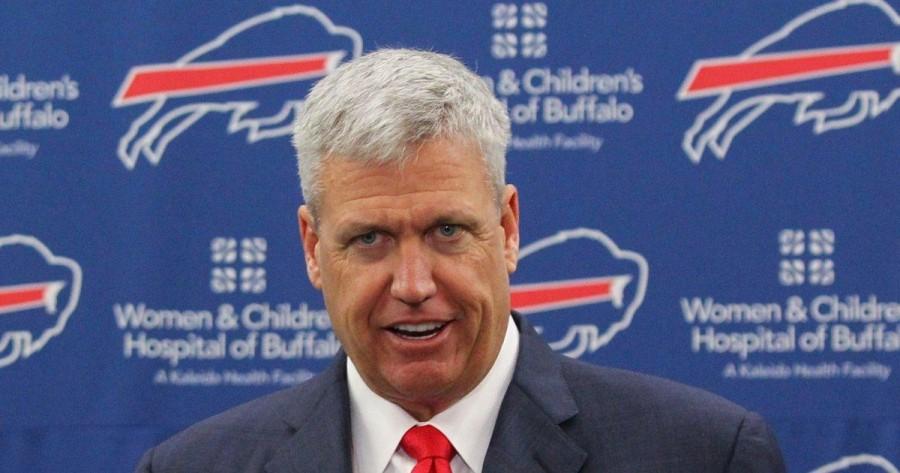 BILL WIPPERT/AP
Buffalo: The Rex Ryan era in Buffalo is off to a fun start. The team acquired former Eagles HB LeSean McCoy in the offseason and also signed Percy Harvin. Pair that with a top-5 defense, the Bills will be a force to be reckoned with in 2015. One of their most glaring weaknesses is their QB situation. It started off as a three man race between E.J. Manuel, Matt Cassel and Tyrod Taylor. Taylor eventually won the spot. If he's able to produce at a constant rate, there's no reason why the Bills won't be in the playoffs. If he doesn't however, he'll be looked at as someone who is holding his team back.
Miami: Year four under Joe Philbin might finally end in a playoff berth for the Dolphins. The biggest splash in free agency was made by them, signing former Lion Ndamakong Suh to a contract. With him and Cameron Wake coming after opposing quarterbacks, their secondary will benefit automatically. On the other side of the ball, Ryan Tannehill will be one of the most improved QBs in the league, no doubt about it. If his offensive line can keep him upright for most of 2015, Miami will be playing some postseason football into 2016.
New York: I expect the Jets to surprise everyone. Darrelle Revis is back with the team, along with Antonio Cromartie and first-year head coach Todd Bowles is defensive-minded. I expect them to get after people on defense which will keep them in a lot of games. On offense, the team acquired star wideout Brandon Marshall. For now, the team's starting QB is Ryan Fitzpatrick. If he comes out and produces right away, don't be surprised to see him remain the starter for all 16 games.
AFC North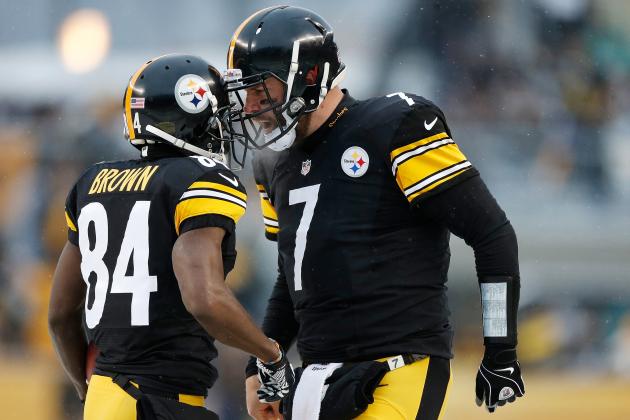 Gregory Shamus/Getty Images
Pittsburgh: The Steelers face an uphill battle from the start. Not only is Le'Veon Bell suspended for the first two games, but now wideout Martavis Bryant is gone for the first four. Luckily, Pittsburgh has plenty of weapons to go around paired with a strong offensive line. Their weakest link is their defense. If they can get stops when it matters most, the Steelers will own one of the best records in the AFC. I don't think it can though.
Baltimore: The Ravens are a team that could be very scary this season. They have the offensive line, a running game, a nice defense, and a QB who no one wants to face in the postseason. What's missing? Receivers. Joe Flacco doesn't have enough support around him to have a lights-out offense. Steve Smith is capable, but he's on his last legs. Rookie Breshad Perriman has potential, but is unproven. If the Baltimore wideouts can find a way to constantly put pressure on a defense, there's no reason why the Ravens won't be Super Bowl contenders this year.
Cincinnati: Time is running out in Cincy. After another playoff failure, this is the year that will determine both Andy Dalton and Marvin Lewis' future with the team. Key pieces for them were hurt on both sides of the ball: Marvin Jones, Tyler Eifert, Geno Atkins and Vontaze Burfict. All those guys will return this season (Burfict will appear mid-season) in a quest to finally win a playoff game. Getting there won't be easy however as they have one of the toughest schedules in all of football. If the defense can play how they did under Mike Zimmer, then I expect to see the Bengals back in the playoffs. If not, it will be a very long offseason in the jungle.
Cleveland: The Browns aren't making the playoffs this year. And that's O.K, if they get productive play out of the quarterback position. Josh McCown is the starter for now but if he struggles, Johnny Manziel will get some playing time. Cleveland will be competitive in a lot of games, but 2015 will be more about selling tickets more than it'll be about winning games.
AFC South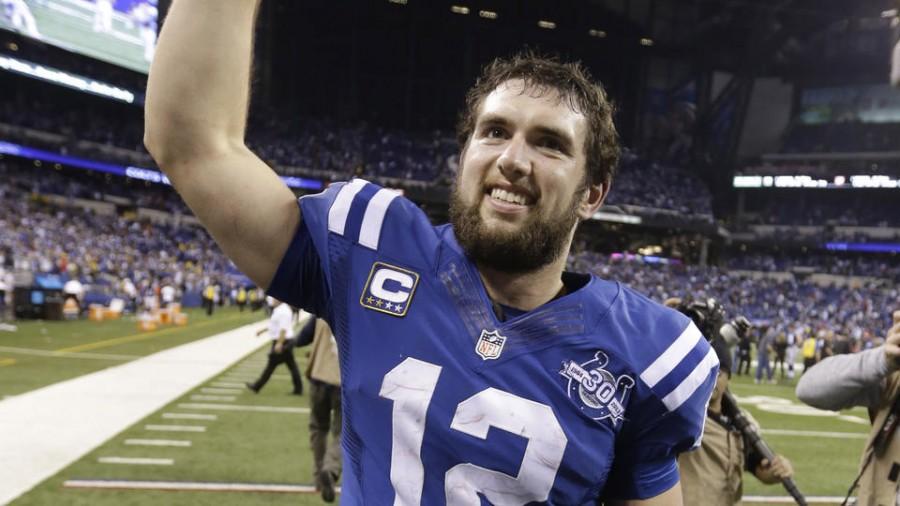 The Associated Press
Indianapolis: Andrew Luck has gotten closer to the Super Bowl in each of his three seasons. He has a realistic shot at continuing that progress in year four as well. The additions of Andre Johnson and Frank Gore will definitely help Luck. The secondary has improved as well, especially after playing impressive football in last year's playoffs. If the offensive line can give Luck enough time to dissect the defense, the Colts will be one of the last teams standing in the postseason.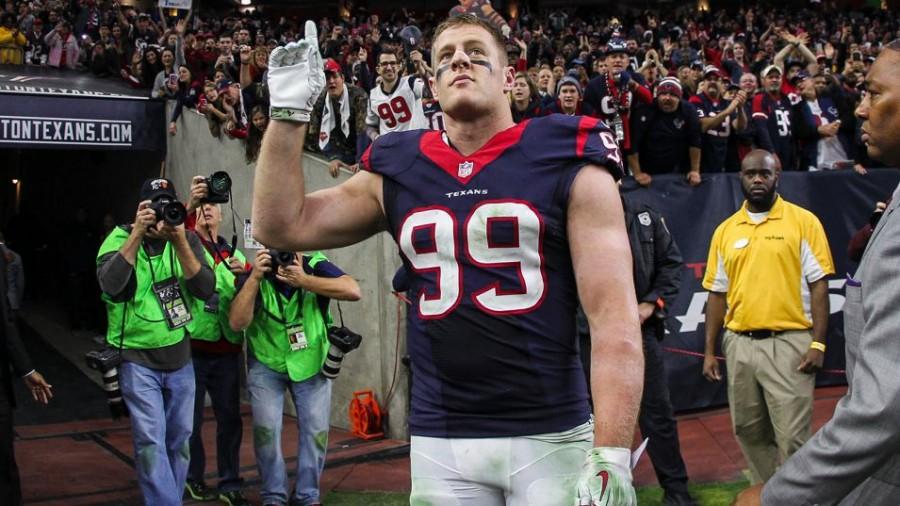 Troy Taormina / USA TODAY Sports

Houston: Brian Hoyer will take over as QB after winning the job over Ryan Mallett. If Hoyer's accuracy carried with him from Cleveland, the Texans could crack a playoff spot. Arian Foster's health is a concern, however. When he's on the field, Houston is a different team. They're nothing more than mediocre without him. On defense, you know what you're getting from J.J. Watt but what about Jadaeveon Clowney? Will he live up to the hype or be a historical bust? If this team stays healthy, they should be right in the thick of things in January.
Tennessee: This year is all about rookie QB Marcus Mariota. The Titans do not have enough talent to remain relevant this season. I expect Mariota to have his ups and downs, but he'll have a decent year. If he struggles, he won't get much blame. Just look at what's around him. Yuck.
Jacksonville: The Jaguars are trending upward. Despite Julius Thomas being out for 4-6 weeks, Jacksonville will be one of those teams that you'll never want to face. They'll be feisty on defense and Blake Bortles will continue to improve. Although their record might not show it this year, the Jags are on their way back to relevance.
AFC West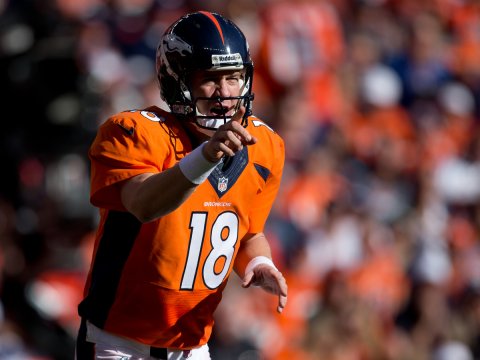 Justin Edmonds/Getty Images
Denver: There're two bandwagons associated with the Broncos: Peyton Manning has something left in the tank or he's done. I'm leaning towards the latter here. Don't get me wrong, Denver will still have a decent year offensively but they will lack explosion. That could come back to haunt them in the playoff race. On defense, the Broncos should have one of the best groups in the NFL. The torch in the mile high city has been passed. This won't be the 30-point scoring Bronco team we're accustomed to seeing. Instead, the focus will be shifted to allowing around 17 points a game and grinding out games. The big question is, will that approach work?
Kansas City: There's no doubt about it: The Chiefs' schedule is brutal. Their first four games include a game at home against Denver and a trip to Green Bay. Having a capable receiver will help though as the team acquired Jeremy Maclin this offseason. Don't be mistaken, this offense revolves around Jamaal Charles. He'll get his touches and you'll see KC doing some big damage through play action. The defense will be tough as well, especially with Eric Berry returning. Don't expect Kansas City to have the best start to the season but they will find their groove during the second half of the year.
San Diego: Expect the unexpected. That's the theme that should go with the Chargers. Most people are doubting the Bolts this season. I get it, their schedule is tough and they're a young team. But they're hungry and motivated. Philip Rivers remains one of the most underrated QBs in the game. Their defense is going to fly around and get to the football. Melvin Gordon is probably the team's biggest question mark this season. He doesn't have to be a superstar, but if he can produce at a good rate, the Chargers will be a force in 2015.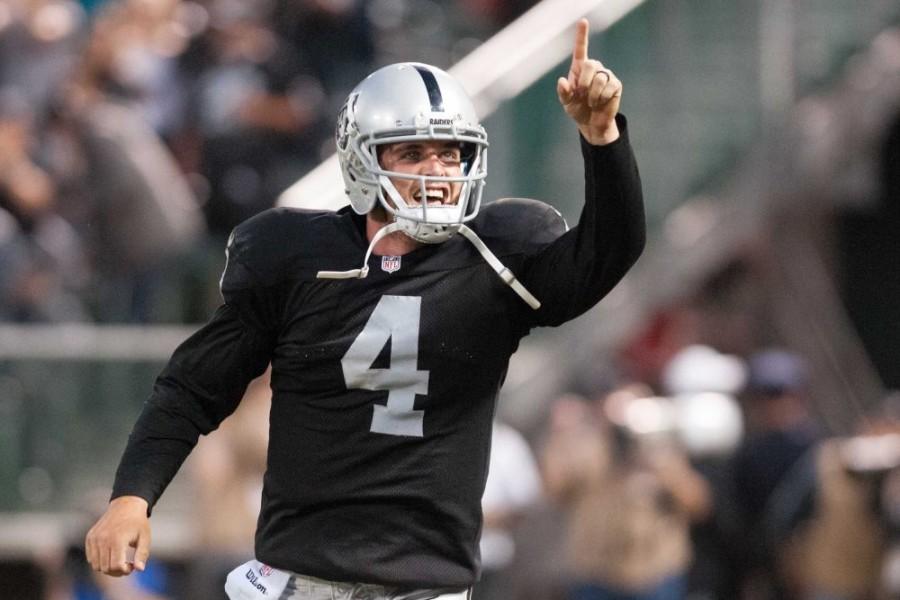 Ed Szczepanski-USA TODAY Sports

Oakland: The Raiders are another team on the rise. Getting Amari Cooper in the draft was huge as Oakland is among the NFL's most pass-frequent teams. Their defense won't be nice to opposing offenses either led by 2nd-year LB Khalil Mack. Most people won't give the Raiders much of a chance this season but they'll definitely be in some intense battles.
NFC East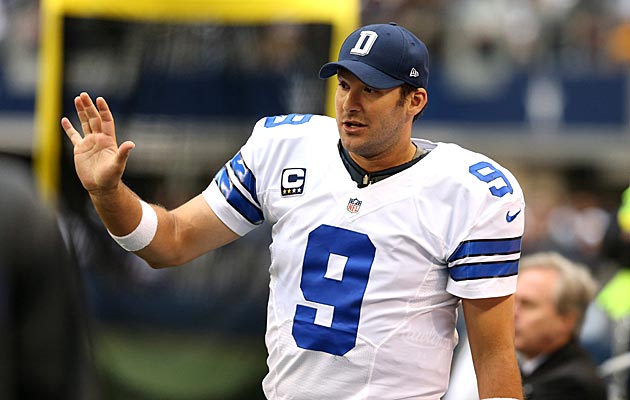 USATSI
Dallas: The Cowboys have the best offensive line in the game, but it's their defensive line that could be the the key to the team this season. Not only Greg Hardy, but rookie Randy Gregory will be a huge addition to this team. Tony Romo and his targets on the outside will produce as well. Darren McFadden's health is a concern of course. If he stays healthy alongside Joseph Randle, the Cowboys will undoubtedly be a Super Bowl threat this season.
Philadelphia: Chip Kelly's Eagles better produce after all the moves the team made or else things will get ugly. Fortunately for him, I think Philly will produce. The offense should be potent, but will be inconsistent at times. The secondary is the team's weakest link and could ultimately hold the team back. Another thing that could hold the team back is Sam Bradford's health. If he gets hurt again, they might want to give Tim Tebow a second chance. Just saying.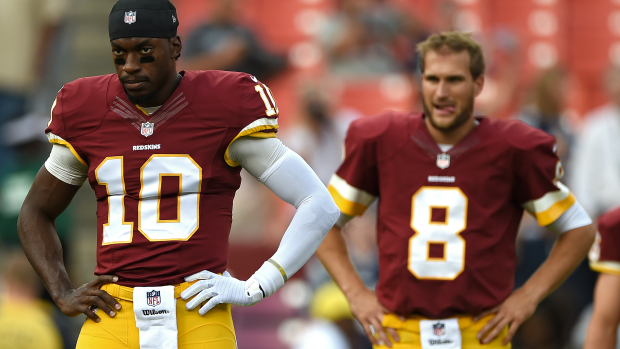 Photo by Patrick Smith/Getty Images

Washington: After benching RG3, the Kirk Cousins era is officially underway in D.C. We'll see if the offensive line can keep him off his back as it seems like they quit on Griffin. Cousins does have Alfred Morris and DeSean Jackson on his side which will help. Their defense is better than people think as well. The Skins will be a competitive team in 2015.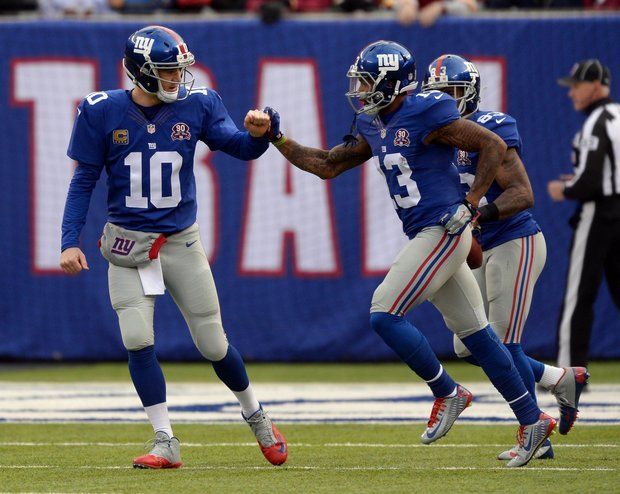 Robert Deutsch-USA TODAY Sports

New York: It'll be interesting to see if the Odell Beckham Jr. show continues in the Big Apple. If it does, I expect the Giants to have one of the best offenses in the NFL. Defenses don't only have to worry about Beckham, but Victor Cruz, Reuben Randle, and newly-acquired back Shane Vereen as well. The team should put up points regardless of how they looked during the preseason. Their defense is what concerns me and is what ultimately will come back to haunt them.
NFC North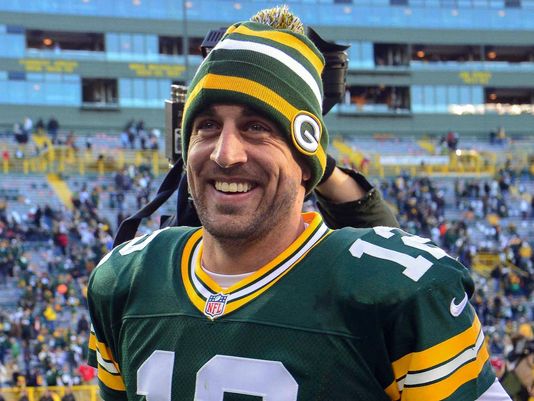 Benny Sieu, USA TODAY Sports
Green Bay: The Packers will be competing for a Super Bowl this season. Their offense is loaded even without Jordy Nelson and their defense is much improved. They have some tough games in the regular season but I fully expect them to have one of the best records in the league. If the D can hold their own against top opposition, Green Bay will be playing deep into the winter.
Minnesota: Watch out, folks. Not only does Adrian Peterson return, but second-year QB Teddy Bridgewater is in for a breakout season. He has some solid pieces around him including Mike Wallace and Kyle Rudolph. Peterson's appearance will make things so much easier for Teddy. If Peterson can return to his MVP form then the Vikings will no doubt be a playoff team in 2015. Even if he doesn't, Bridgewater is ready to take this team to the next level. Pair him with a defense that'll get after you in a heartbeat and you have yourselves a dangerous football team ladies and gentlemen.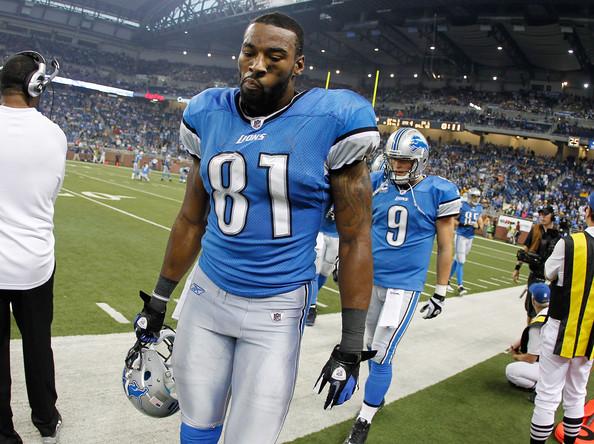 Gregory Shamus/Getty Images North America

Detroit: Yes, the Lions lost Ndamakong Suh but that doesn't mean that the team will just fall off the face of the Earth. As long as they have Matthew Stafford and Calvin Johnson on the same team, they will put up points. Golden Tate can't be forgotten about either. We'll wait and see if rookie HB Ameer Abdullah produces some of what he flashed during the preseason. If he does, look out for Detroit in 2015. While the defense has taken a step back, the Lions will remain competitive.
Chicago: It could be a rough year in Chicago. Not due to the Bears being a bad team, but their schedule is too tough for them to survive. I expect the offense to play decent football with Jay Cutler having Alshon Jeffery and Matt Forte as his partners in crime. Rookie wideout Kevin White might not make an appearance this season but he should be a bright spot whenever he does play. The problem is that defense. Sure, John Fox is a defensive-minded coach but there's just not enough talent there. Get ready Bears fans, it's going to be another long year.
NFC South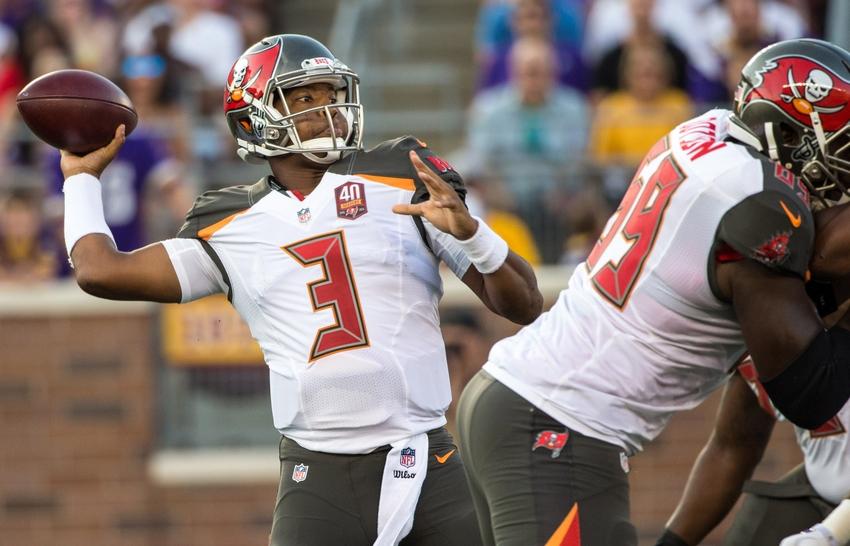 Brace Hemmelgarn-USA TODAY Sports
Tampa Bay: Rookie QB Jameis Winston had his ups and downs throughout the preseason. It's now time for him to show what he has when the bright lights come on. I expect Winston to have peaks and valleys this season as he continues to learn an NFL offense for the first time in his life. The defense will keep the team in a lot of games. It will be up to Winston to see if he can rise above and rescue his team to victory.
Carolina: I feel bad for Cam Newton. He wins his first playoff game in the previous season, and things seem to be trending upward. Then, his top receiver Kelvin Benjamin tears his ACL. Sure, the team still has Greg Olsen, but that's about it. The defense will play at an elite level, yes. However, in a lot of contests, Newton will have to put on his superman cape to rescue his team. Or else things could turn ugly in a hurry.
Atlanta: You know the Falcons are going to put up points. The question will be if the defense can stop the other team enough. Last year, Atlanta's defense was terrible. This season, expect improvement which will lead to the Dirty Birds competing for not just a division title but the #1 seed in the NFC. The scary Atlanta Falcons are back.
New Orleans: The Saints lose Jimmy Graham and everybody thinks that's the end of things in the Big Easy. That's simply not the case. If Brees can further develop his chemistry with Brandin Cooks and rely on a healthy C.J. Spiller then the Saints will be in the mix in the NFC South. Much like Atlanta, the Saints defense was horrific last year but progressions have been made. It's not going to be a stout defense, but they're not going to be the laughing stock of the league either.
NFC West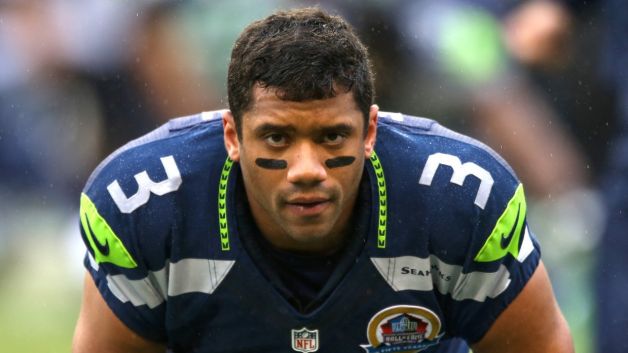 Otto Greule Jr/Getty Images
Seattle: Lofty expectations follow the NFC Champion Seahawks again. Being a few yards away from a repeat will motivate Seattle to do big things this season. The addition of Jimmy Graham will open up running lanes for Marshawn Lynch. Wilson will improvise outside the pocket and consistently find open targets. My one question may shock a lot of people, but it's their defense. Everybody knows how good it has been the last few years, but will they continue to batter opponents physically? That style wears down on people eventually, it'll be interesting to see if the Legion of Boom will continue to dominate.
Arizona: The Cardinals surprised many by going 11-5 last season despite a plethora of injuries. Among those injured was veteran QB Carson Palmer. Even if Palmer stays healthy, Arizona will have their hands full with their schedule. Either way, Arizona should be in the playoff discussion this season.
St. Louis: The Rams will be a team no one wants to face. They're fierce on defense, have a tough running game and have now added Nick Foles to the mix. If the Rams can be consistent on offense, they'll be in the playoff discussion in January.
San Francisco: Jim Harbaugh? Frank Gore? They're not walking through that door but San Francisco fans will be glad to have Carlos Hyde as their feature back. Hyde burned the Vikings in week 1 putting up 168 yards and two touchdowns on 26 carries.  If Colin Kaepernick can continue to improve his mechanics as a QB and rely heavily on Hyde, the Niners will remain competitive. The defense will be solid but Jim Tomsula will ultimately have his work cut out for him in his first year with the Niners.
Projected Standings
AFC East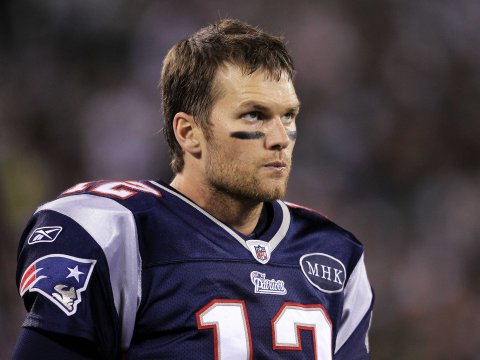 Nick Laham/Getty Images
1) New England 13-3
2) Buffalo 10-6
3) New York 10-6
4) Miami 6-10
Feedback: New England still finds a way to win the division but finally has some company as New York and Buffalo are competitive as well.
AFC North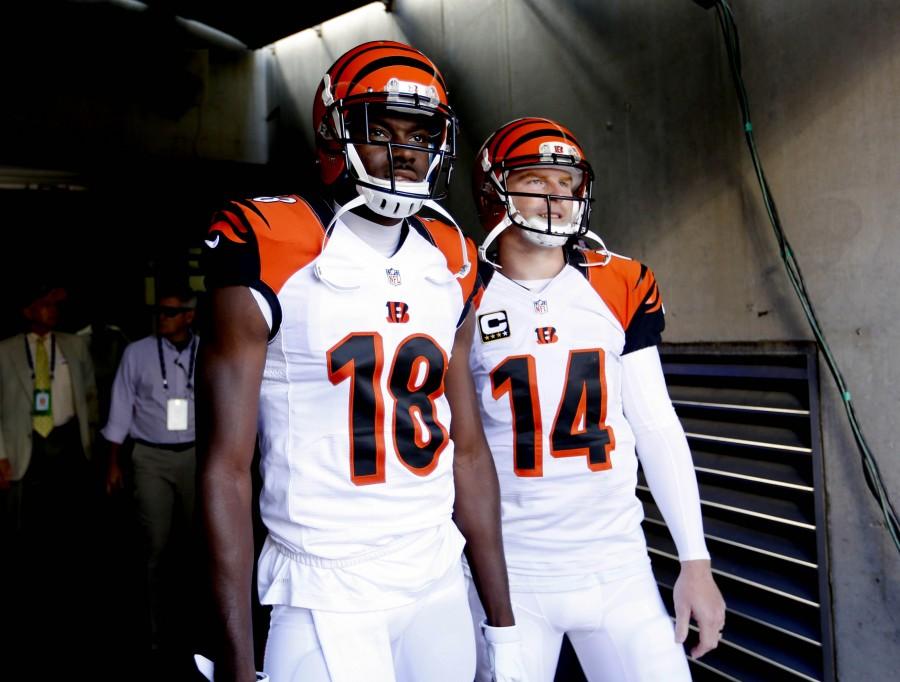 (Mark Zerof-USA TODAY Sports
1) Cincinnati 13-3
2) Pittsburgh 10-6 
3) Baltimore 8-8
4) Cleveland 5-11
Feedback: The Bengals make a 5th straight playoff appearance, winning a tight two-team race in the North.
AFC South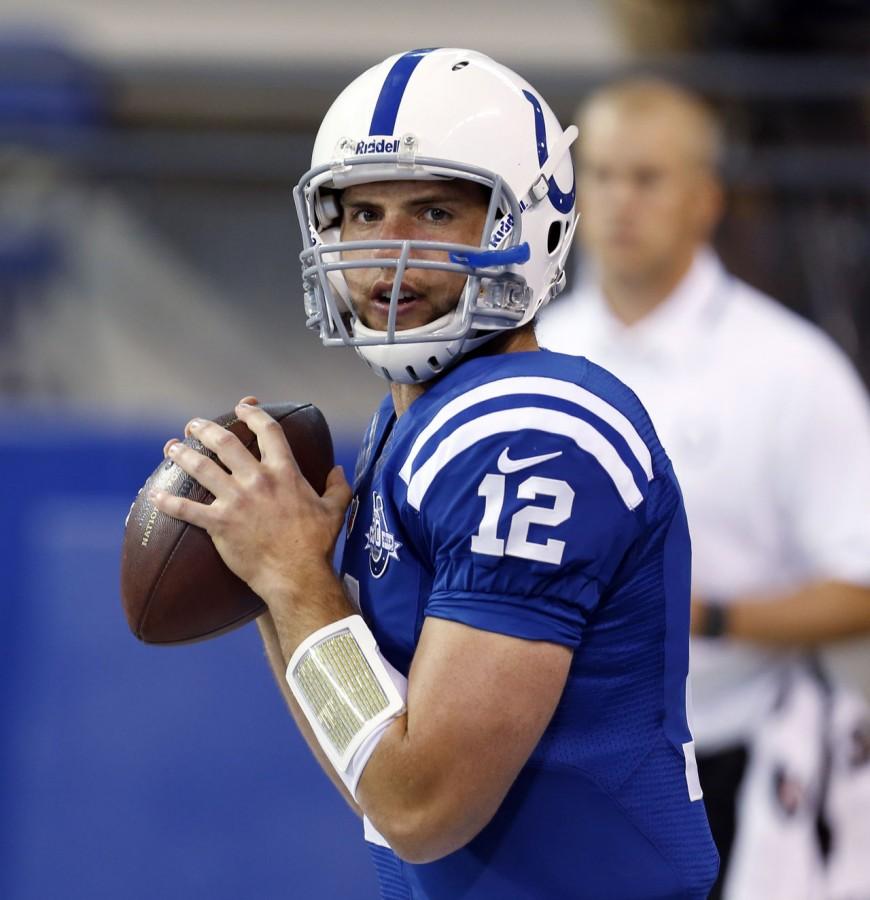 AP Photo/AJ Mast
1) Indianapolis 9-7
2) Houston 6-10
3) Jacksonville 5-11
4) Tennessee 4-12
Feedback: No shock here as Indy controls the South again.
AFC West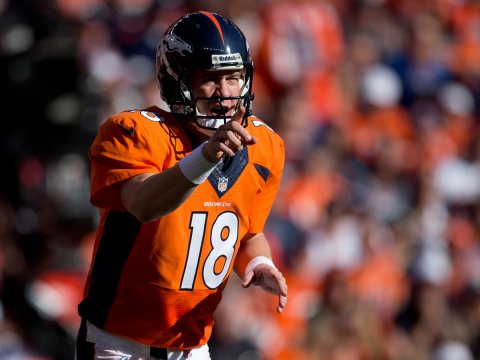 Justin Edmonds/Getty Images
1) Denver 12-4
2) San Diego 9-7
2) Kansas City 9-7
4) Oakland 6-10
Feedback: Denver's defense leads the team to a division title, not Peyton Manning.
NFC East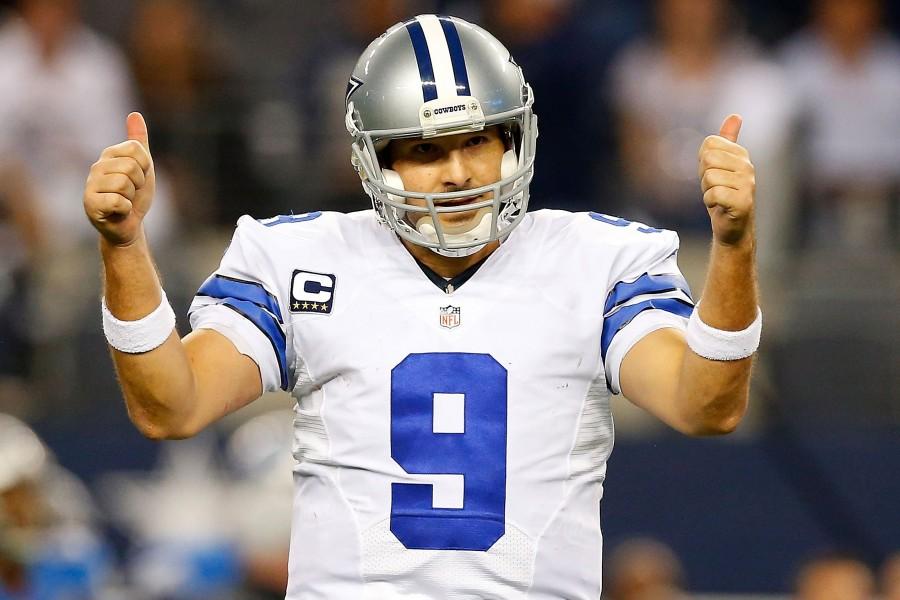 Getty Images
1) Philadelphia 9-7
2) Dallas 8-8
3) New York 7-9
4) Washington 6-10
Feedback: Dallas has a good season as they repeat as division champs, the Giants turn in a solid season as well.
NFC North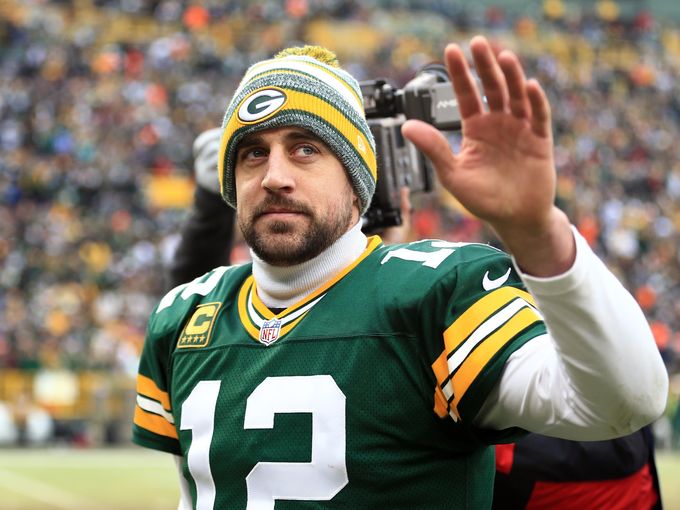 USA TODAY Sports
1) Minnesota 10-6
2) Green Bay 10-6
3) Detroit 6-10
4) Chicago 5-11
Feedback: The Vikings stun the Packers here, stealing the division away from Green Bay.
NFC South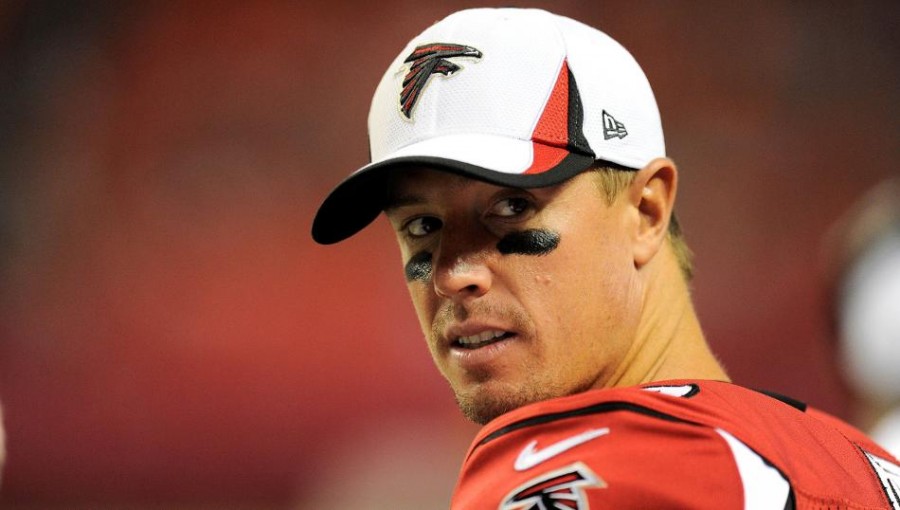 USA TODAY Sports
1) Carolina 12-4
2) Atlanta 11-5
3) New Orleans 6-10
4) Tampa Bay 5-11
Feedback: Carolina will be on top of the division as Atlanta will be breathing down their necks.
NFC West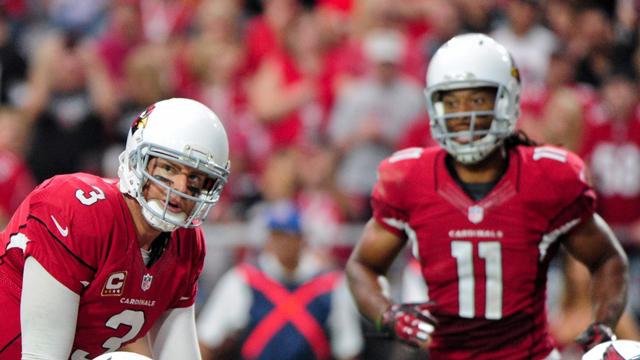 Matt Kartozian-USA TODAY Sports
1) Arizona 13-3
2) Seattle 9-7
3) St. Louis 8-8
4) San Francisco 5-11
Feedback: Arizona wins the West, shocking the Seahawks.
AFC 1) New England 13-3*
2) Cincinnati 13-3
3) Denver 12-4
4) Indianapolis 9-7
5) Buffalo 10-6*
6) NY Jets 10-6*
Feedback: Patriots get home-field, Bills/Jets crack the field as wild cards.
*NE owns tiebreaker over CIN
*BUF owns tiebreaker over NYJ
*NYJ owns tiebreaker over PIT
NFC
1) Arizona 13-3
2) Carolina 12-4
3) Minnesota 10-6*
4) Philadelphia 9-7
5) Atlanta 11-5
6) Green Bay 10-6
Feedback: Arizona gets home-field as the Falcons and Packers enter as two wild cards.
*MIN owns tiebereaker over GB
AFC Wild Card (#6 New York Jets vs. #3 Denver Broncos)
The Broncos' defense is no joke. Their offense, however, is. That will get the Jets into the next round.
Prediction: Jets 17-13
AFC Wild Card (#5 Buffalo Bills vs. #4 Indianapolis Colts)
The Bills would probably be favored in this contest but the Colts will find a way to move on.
Prediction: Colts 24-20
NFC Wild Card (#6 Green Bay Packers vs. #3 Minnesota Vikings)
 In the rubber match of a budding rivalry, the Vikings will get the best of Green Bay largely due to the play of #28.
Prediction: Vikings 27-17
NFC Wild Card (#5 Atlanta Falcons vs. #4 Philadelphia Eagles)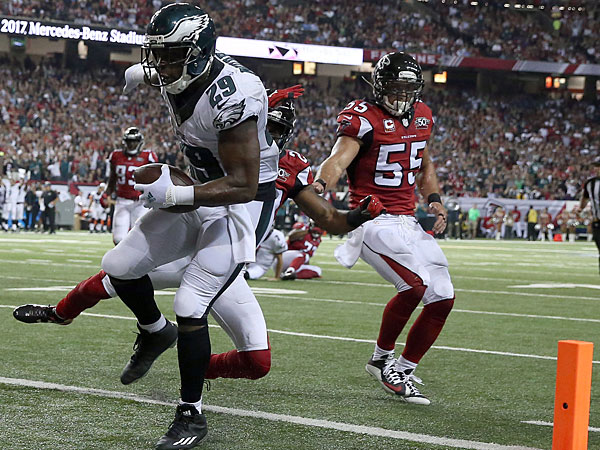 The Falcons are the better team but being on the road and playing in cold weather doesn't bode well for them.
Prediction: Eagles 24-17
AFC Divisional (#4 Indianapolis Colts vs. #2 Cincinnati Bengals)
In a rematch of last year's wild card matchup, Andy Dalton and the Bengals finally strike gold and win a playoff game.
Prediction: Bengals 27-17
AFC Divisional (#6 New York Jets vs. #1 New England Patriots)
This game will be physical for sure. There may be no team in the league that plays the Patriots tougher than the Jets. However, an extra week of rest gives New England the edge.
Prediction: Patriots 23-16
NFC Divisional (#4 Philadelphia Eagles vs. #1 Arizona Cardinals)
Arizona has the advantage on each side of the ball. I'd be impressed if the Eagles kept this game close, let alone win.
Prediction: Cardinals 30-14
NFC Divisional (#3 Minnesota Vikings vs. #2 Carolina Panthers)
This game will be a nail-biter until the very end. Cam Newton will play his best football when it matters most to give his team the win.
Prediction: Panthers 20-16
AFC Championship (#2 Cincinnati Bengals vs. #1 New England Patriots) All you'll hear in the pregame hype will be, "We're onto Cincinnati." Well, Brady and the boys will be onto Cincinnati yet again, leading the Pats to a second straight Super Bowl appearance.
Prediction: Patriots 30-17
NFC Championship (#2 Carolina Panthers vs. #1 Arizona Cardinals)
The Cardinals have the weapons and the defense to give Carolina problems. Arizona will make its first Super Bowl appearance since 2009.
Prediction: Cardinals 24-20
Super Bowl (#1 Arizona Cardinals vs. #1 New England Patriots)
The Patriots will be favored in this game, but they'll have problems with Arizona's tough defense and potent offense. New England will make it back to the Super Bowl, but they won't be the ones celebrating.
Prediction: Cardinals 27-23