Illinois looks to switch to SAT
It's all about the Benjamins.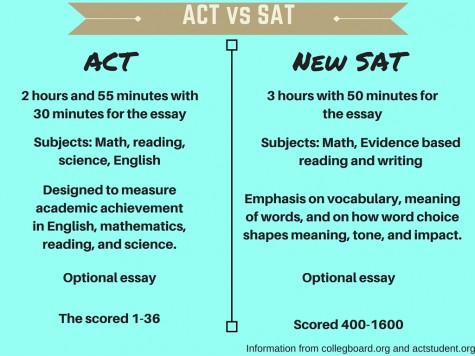 Canva by Camille Campbell
Illinois looks to administer the SAT rather than the ACT this March in an effort to save money.
According to NBC Chicago, after the contract with the ACT ended, Illinois made a deal with the CollegeBoard which offers the SAT. This new deal would save the state $1.37 million. In response, the company who provides ACT launched a protest.
This change in testing is connected to the budget issues in Illinois. The SAT would be more cost efficient, but Illinois still has two problems with the bid they used to save money.
College Counselor Brad Kain explains the lingering issues with the bid.
"SAT won the bid, the problem with it was two things: the state doesn't have the money to pay for the bid right now because they haven't passed a budget, and ACT is now fighting back saying the bidding process wasn't done correctly. So the state would still need to stay in contact with the ACT," Kain said.
According to the Chicago Tribune, Illinois' unsolved budget crisis means that Illinois cannot provide the free ACT they usually offer to juniors.
H-F will be administering the ACT to juniors this year and paying for it. Kain says that students will not be affected by the change.
"In regards to our students, it's not really going to affect what we do here and our students as far as when they apply," Kain said.
Students who may have to take the SAT in the future will not have to worry about colleges not accepting scores.
"Colleges will still take either test, so if our students continue to take the ACT, that's absolutely fine," Kain said.
The ACT is also accepted by all U.S. colleges and universities, according to actstudent.org.
The new SAT, that resembles the ACT, will be given instead of the current one.
The current SAT, according to collegeboard.org, includes an essay, a loss of points for guessing, a grade range from 600-2400 and three hours and 45 minutes of test time.
The new SAT, has an optional essay, no penalty for guessing, the grade ranges from 400-1600 and is three hours with an extra 50 minutes for the essay.
The ACT, according to actstudent.org, does not penalize for guessing, has an optional essay, the grade ranges from 1-36 and is two hours and 55 minutes with an extra 30 minutes for the essay.
The new SAT has different subject components than the ACT. Instead of taking English, math, reading and science, the SAT's subjects consist of evidence based reading and writing and math.
Many students will have to adjust to preparing for a whole new test as well.
Lauren Freeman, the Reading Department Chair and a test prep teacher, says the test prep students have been doing can still be used.
"That doesn't necessarily mean that the ACT is worthless and any prep that you have done," Freeman said. "You're still going to have kids taking the ACT for college."
Students see this as just another test.
Josh Gregory, a junior, has been taking the ACT since eighth grade. He says he would not be eager to take a different test.
"I don't feel like taking another one. I've been preparing for one test and now they are switching to another," Gregory said.
Rebecca Cockrell, a junior graduating this year, says that if the test are similar there should just be one test.
"I think the fact that they resemble each other doesn't make a huge difference and all regions should decide on one test to take," she said.
H-F will have to pay for any ACT administered because the state cannot pay for it.
However, students wonder if there should be a test at all.
Gregory says it is not logical to test everyone the same way.
"I think it's kind of weird to test everyone the same way," Gregory said. "It's like testing a monkey, eagle and fish on the ability to be able to climb a tree. We all shine in different areas."