Teenage Transition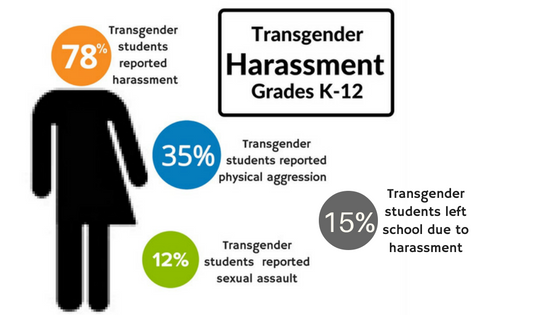 Coming out as transgender in high school is no easy feat, and as senior Callie knows, it is usually only half the battle.
"I feel that H-F can't really be described as 'accepting', more as 'tolerating' or 'agreeable'," Callie said. Her point describes the difference between actually welcoming a certain group of people and simply allowing them to be present.
Callie says she has had much support from her friends as she has come out, and her experiences with counselors have been positive as well.
"As for school administration, I haven't had much interaction with them related to my identity, but what little I have had, mostly college counselors, has been overall positive and supportive," Callie said.
However, close friends and counselors are only one side of the story, hence Callie's decision to remain semi-anonymous. Because Callie hasn't fully come out to the general public, she requested to only have her first name printed.
"I think the acceptance level for transgender students at H-F is pretty high," social worker Phillip Barker said. Although Barker's comment shows H-F in a positive light, Callie's story highlights problems in the system. Our school may boast of its acceptance and openness, but according to Barker, "We still have much more to go."
Callie elaborates on our school's shortcomings regarding transgender acceptance. Although she has yet to come out to the rest of her peers, she has some ideas about how it may go.
"I'd bet there's a fair few people who attend H-F who aren't accepting of their transgender peers," Callie said.
It isn't just a few students who may not be accepting. Callie noted H-F's Health classes, describing our school's disappointing lack of information about different sexualities and gender identities in the Health textbooks.
"We should be educating our students on what all people are like, not just straight, non-transgender people," Callie said.
Public high schools across the country are in a state of uncertainty. Last May, the federal government issued a statement to all public high schools regarding the rights of transgender students.
Schools were required to allow their transgender students the use of their bathroom of choice, but this requirement didn't remain unchallenged.
On Aug. 21, Texas judge Reed O'Connor ruled that the federal government was overstepping its jurisdiction. This hasn't stopped the new rule, but has only hindered its progress. Public schools everywhere aren't able to solidify new policies regarding bathroom rights until a resolution on the federal level occurs.
"Right now, I hate to say it, but we're kind of in a 'wait and see' mode," Assistant Principal Craig Fantin said. According to Fantin, H-F receives information about required policy updates each month, but said that this one coming up will probably be a major change.
Shortcomings aside, Fantin believes that our school does its best to welcome transgender students. According to Fantin, there has not yet been any conflict between transgender students and the H-F policy, but staff members know what to do if that were to occur.
"What we would want to do is ultimately try to work with that student and their family to make it as comfortable as it could be for that person," Fantin said.
Barker is also optimistic about H-F's acceptance of all students. Despite obstacles facing transgender students today, he believes our school has come a long way in recent years.
"The only change I've seen is a more open, accepting culture," Barker said.
Although H-F may not be perfect, Callie's hope is for her fellow students to become more aware and accepting.
"Transgender people are no different from anyone else," Callie said. "We're just trying to live our lives and be comfortable with who we are."