Holiday Angels sprout wings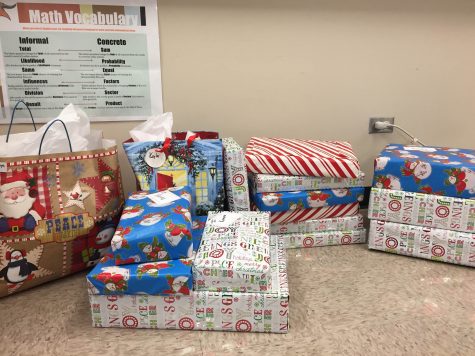 The holiday time is not just a time for Santa and presents. The H-F community has dedicated the holidays to giving back to the less fortunate.
Some of H-F's clubs have partnered with the Flossmoor Community Church to provide food and clothes for families who would otherwise struggle through the holiday season.
The senior class of student government took a field trip to Walmart to buy the families necessities to use during the holiday season.
"We bought them all kinds of stuff like winter coats, boots, hats, gloves, clothes and a few toys for the kids. Ms. Durkin really wanted the family to have a nice holiday," senior Kennedi Sidberry said.
Holiday Angels is a special experience for English teacher Melissa Durkin because of her love for the holidays.
"This is hands down my favorite senior class activity; we get to combine having a lot of fun with helping others.  Not only is it heartwarming to help a family in need during the holiday season, but we also get to be a lot more relaxed and just have fun as we eat, wrap presents, and listen to holiday music.  It starts the holiday season on a really great note," Durkin said.
The Spanish National Honor Society has also been trying to play their part in giving back to the community. Their members can donate money to provide gifts to a family who is struggling throughout the holidays.
"I think it's pretty cool that we can contribute to a good cause through an organization at our school. It really gives us a chance to give back when a lot of us are way more fortunate than they are," junior Frankie Blanco said.
The spirit of giving back has always been present at H-F, as they have participated for the past couple of years.
Peer helpers has also joined the cause of helping alleviate the stressfulness of the holidays by buying presents for families in need. They have a sign up sheet where members can sign up to sponsor a family through the holiday season.
Students all over the school can get involved in spreading the spirit of giving back.
"Students do it all. They shop for all the items and wrap them up beautifully – they truly put together something magical for these families," Durkin said.
While the holidays can mean smiles, cheers and presents to some, to others, it's just another hard time to get through because the money in their pockets just isn't enough.
"Holiday Angels represents what we should really all be doing more often- coming together to help others," Durkin said.