Who is Banksy?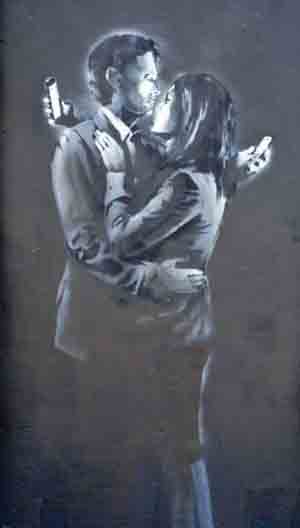 In today's art world, street artist Banksy is just as well-known as he is mysterious. The England-based artist's thought-provoking graffiti has made him famous, but his identity is unknown; after all, vandalism is a crime. The controversial artist works in stencils, spray painting powerful images on public buildings.
His work strikes a chord with the first world, addressing issues that society faces today. For example, his piece titled "Mobile lovers" depicts an embracing couple who are focused on their phones rather than each other, and "The Son of a Migrant from Syria" shows Steve jobs, whose father was a Syrian immigrant, travelling as though he were a migrant himself.
In addition to satirizing societal and political issues through street art, Banksy has directed a few films. His first film, Exit Through the Gift Shop, premiered at the Sundance Film Festival in 2010 and was nominated for an Academy Award.