Let there be Joy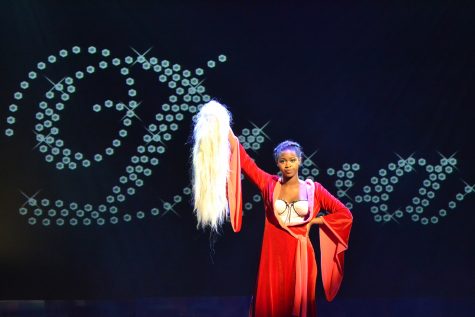 When people hear of junior Joy Woods, they think of a humble, talented girl whose multifacetedness is evident through her skilled participation in the fine arts.
"I'd have to say she's very skilled at almost everything she does. She's a pretty amazing girl," junior Michael Kennedy said.
Despite the astonishing talent she holds, Woods still remains humble and always has a smile on her face. One of Woods' close friends, junior Madeline Moxley, has become close to her more than she imagined in only a year's time.
"When I first met Joy, she was just a girl who could dance and play music at a party. I had no idea who she was, and I had one class with her," Moxley said. "Since then, Joy and I have become very good friends in a short amount of time, which is surprising because it hasn't even been a year yet."
Woods is often identified as a triple threat with her amazing talents as a singer, dancer and an actress: she has experience on the Speech team, Poms and multiple theatre productions.
Woods' schedule is usually jam packed because of all her activities.
Earning the supporting role of Turtle in H-Fs theatre's children's production of A Year with Frog and Toad and the lead role as Lady of the Lake in the fall musical Spamalot, Woods still manages to earn first place in Speech competitions.
Joy is someone the theater department is truly proud of.
"Joy Woods never ceases to amaze me with her crazy talent and kindness,"  Director James Rose said.
Graceful in not only singing and acting, but in dance as well, her motivation to leave a legacy inspires her for greatness.
"My mother influenced me. She was a dancer; her putting me in classes, wanting at least one of her kids to be a dancer really pushed me to do that for her," Woods said.
Although talented, she still has much to learn and finds herself learning the biggest lessons in the theater department.
"I've grown to love people more than I ever have before, and I have experienced more of what love feels like for more reasons than one," Woods said.
Even with negativity from outside influences, Woods always looks on the happier side of things and keeps doing what she loves.
"I pride myself on my ability to deflect what people say because other people's words don't define me as a person," Woods said.