Bald for a cause
H-F hosts annual St. Baldrick's fundraiser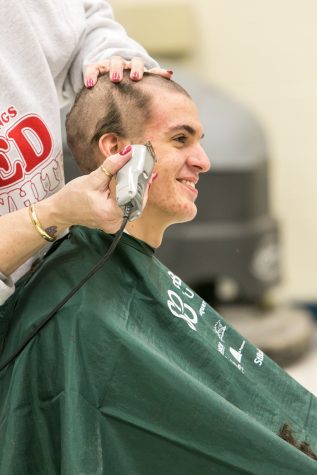 The buzz of the clippers going past your ears and the hair you spent years growing falling to the floor may be a scene from a nightmare for some. For others who are raising money for pediatric cancer, however, it's a feat they can't wait to accomplish.
"I am more excited than nervous because I know it will be such a great experience. I'm also excited to explore outside the normal standards of beauty and show that bald can be beautiful also," junior Jorden Levine said.
St. Baldrick's foundation is a volunteer-based charity that funds more in childhood cancer research grants than any other organization besides the U.S government. Volunteers are asked to gather donations and then shave their heads to give solace to childhood cancer patients.
Students and teachers are both very willing to participate to raise money for such an impactful foundation.
"I am shaving my head to help support the students who are making an impact reducing the incidence of childhood cancer. I believe it is a powerful message that students send when they take actionable steps towards solutions rather than just talking about what should be done," Biology teacher Matt Knoepke said.
Some participants have people in their life who inspired them to take the leap.
"Actually, my mom inspired me to participate. A few years ago she shaved her head and raised over $1,000," Levine said.
Levine is not only participating herself, but she is also encouraging others. Levine and her boyfriend Anthony Crecco are tackling the cause together. They are both planning on supporting and shaving their heads.
"Anthony is my biggest supporter, and it will be exciting for us to walk the halls bald together," Levine said.
Crecco has his own reasons for supporting the organization.
"It has always saddened me that there are people, let alone children, who are affected by this. If that upsets me, I can't imagine how a parent must feel to find out their child has it," Crecco said.
Doing this together means a lot to the couple because they feel it will strengthen their relationship, and it shows how much they support one another.
H-F has, through the diligence of the volunteers, collected over $1,000 of donations so far and is coming closer every day to it $10,000 goal.
"I don't do this for the fun of shaving my head. I do this because I believe in the cause and I want to show my support. If that means going bald for a little while, so be it," Crecco said.