Saying goodbye
Support in place for students who lose loved ones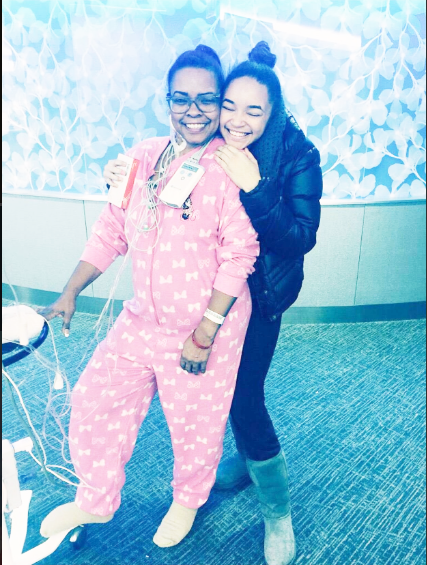 After four days waiting in the hospital as her mother fought for her life, senior Ta'ah Tompkins finally allowed herself to go home to get a few hours of rest. However, she soon learned the news that would change her life forever.
"At 3 a.m., my cousin woke me up and told me we had to go to the hospital," Tompkins said. "At that point, I knew."
Tompkins' mother, Karen Tompkins, had passed away on Jan. 24 after a six-year battle with congestive heart failure. She underwent heart transplant surgery in January of 2015.
"She was getting really bad short of breath (in 2015) and couldn't regulate her heartbeat. She went in and they saw it immediately," Tompkins said. "They decided she needed a transplant because the defibrillator wasn't working."
After just two and a half months on the waiting list, Karen Tompkins had a new heart.
Her doctor appointment this January was supposed to be a routine checkup. This time, however, Karen Tompkins had complications.
"Usually, they would just give her the anti-rejection medicine and she would be okay, but this time they gave her the medication and she had a completely opposite reaction than what was supposed to happen," Tompkins said. "Immediately after that, they called us and told us she was in critical condition, and we were extremely confused. They put her on life support. She was there, but she wasn't there; she wouldn't do anything when we touched her or anything, and that's how it was for four days."
After long deliberation and numerous surgeries, the family decided to allow Karen to pass peacefully.
"We got to be there when they unplugged everything. That was probably the hardest part because you get your hopes up, and every time you see her in the room, you tell yourself, 'She's still alive,'" Tompkins said. "You see the flat line. I was there in that moment to see it all, and it was a lot to handle."
The death didn't only impact immediate family. Tompkins' best friend, senior Ashley Domer, was confused and heartbroken.
"The hardest thing for me was seeing her go through one of the most traumatic things a person could go through and not be able to make it go away," Domer said. "It was really difficult comforting her when there's not anything you can really say to make things okay, either."
Dealing with parental loss
According to Children's Grief Awareness Day, 1.5 million American children live in a single parent home because of the death of one or both parents.
Senior Nina Harris lost her father when she was 15.
"For me, I just wanted to talk to someone," Harris said. "There are people who have been through the same thing you're going through. It's okay to hurt, but it does get better."
Harris says she relied on her friends and resources at school to help her.
"Allowing myself a couple of weeks to be upset, and after that just utilizing resources, friends and other people to talk to was definitely helpful to recuperating," Harris said.
H-F provides students with numerous outlets and resources to express their emotions, such as Peer Helpers, Peer Communications, professional social workers and guidance counselors.
The social workers lead groups for students who lost loved ones.
"Mr. Barker and I facilitate two different grief and loss support groups for students that have been impacted by loss," social worker Andrea Ball-Ryan said. "If necessary, we can also provide referrals for grief counseling services outside of school."
"Mr. Barker and I facilitate two different grief and loss support groups for students that have been impacted by loss," social worker Andrea Ball-Ryan said. "If necessary, we can also provide referrals for grief counseling services outside of school."
Ball-Ryan said students should make sure they continue their normal routines when experiencing grief. She also said that being honest about your feelings is important.
"Students should reach out and communicate their struggles when the feelings become too intense to handle independently," Ball-Ryan said.
Tompkins' triumph
Through all this, Tompkins has remained positive and says her friends and family are solely responsible for that.
"My relationships with people have definitely grown. People always knew I had stuff going on with my family, but since my mom passed, it has grown," Tompkins said. "With prom, my family is just like, 'We got it.' They're going out of their way a lot to make sure I get what I need because my mom put a lot of stress on my senior year and wanted it to be amazing."
Domer said Tompkins has matured tremendously and continues to impress her by her immense strength.
"She had to keep it together for the rest of her sisters and be strong for them; she was honestly their rock," Domer said. "She has been so responsible for all the things she's had to do keep up with school work and the entire college process."
In the fall, Tompkins will be attending the University of Illinois in Urbana Champaign with her full tuition cost covered.
According to Tompkins, making her decision was a "no brainer."
"My mom really wanted me to go to U of I no matter what I said. It was definitely a sign that I should go there once I got my acceptance letter," she said.
She plans to major in social work, using her life as an example for others to get through hardships.
"When it comes to my career, I'm going to be able to handle tough situations just because I know how things go," Tompkins said. "You can cry and be upset, and that's all fine because you have the right to express your emotions, but life is not going to stop."
Tompkins's has made it a goal to make her mother proud and holds onto all the advice her mother has given her.
"She was hard on me when it came to school and keeping my stuff together, and I miss that. She would be there when I had my little moments," Tompkins said. "I really miss being able to talk to her. I think that's the one thing we take for granted; I won't hear her voice again."