Staff Editorial: Put the honor in all honor societies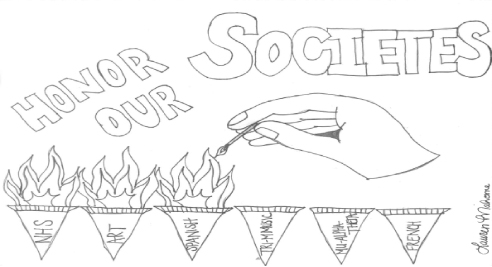 There are a total of six honor societies at H-F, yet only one of them distributes cords at graduation: National Honor Society.
This has frustrated those students in societies like National Art Honor Society and National Spanish Honor Society who work hard to get all of their hours in, but don't get the recognition at graduation.
In recent years, the requirements for the other honor societies have increased, making them worthy of the honor.
Students say they go through a lot in these clubs and deserve to be recognized for their hard work and service.
Hoping to get chords for all honor societies, some students went to the school board meeting in April. Their request was declined because it was too late in the year.
However, the administration did agree to revisit the policy for next year.
Part of the opposition is tradition. For the past 50 years, NHS has been the only club to be honored with cords.
But tradition isn't the only problem, the administration said they were afraid of the gowns looking too messy if someone has a lot of cords, yet alone attempting to find six different ways to represent the honor societies.
Students have suggested using pins. Pins could resolve the unorganized look the administration is worried about, while still giving students the recognition they deserve.
There can always be a middle ground found, and that's exactly what our H-F students did.
This is a great demonstration of how H-F students get involved and make sure their voices are heard and respected.
We hope the administration listens to this request and adds pins or cords next year.
In its entirety, it provides a good lesson for the officers of the various honor societies as well as the rest of the student body.
With the year starting out so controversial, this break in tradition and positive change poses a light at the end of the tunnel.