Vegans! We need to talk!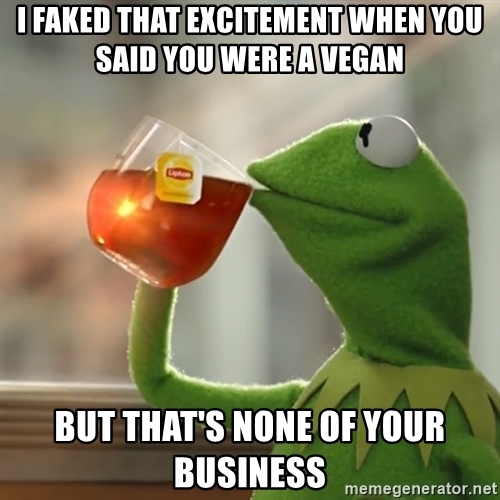 It's the new year, and we're all trying new things. Whether it's those bangs that you now regret or that boyfriend that you're getting sick and tired of, new year means new things.
My new year's resolution was to have more patience. Part of my "new year, new me" initiative. I was doing well, until one day, my mom told me hers.
"I'm going vegan."
In that moment, I felt my stomach cry in agony at the meals of food she will miss. My mom said I shed a tear in that moment; she called me dramatic. But I was at a vulnerable moment. All the ice-cream, milkshakes and bacon were slowly disappearing from my life. The chicken, the fried fish, all gone. I had every right to cry.
At first, it was subtle. She started off with some pasta, but I could taste the difference. I could taste the off- taste of the tofu chicken. I pushed through. My new year's resolution was patience, and this was a test. This was a hard one, but still a test.
Day by day, my home became a-live in-Whole Foods. Our pantry stuffed with things like carrots, kale and starving artists. Everything was fine, until one day, she crossed the line.
My dad and I come back from the store. Our grocery bags were filled with bacon and cheese of all kinds. My mom walks in from the living room and looks at us. "How could you eat that?" she said.
Pause.
Mind you, I'm working on patience. It has been a week of me eating dry ranch-less salad and soups with no meat. And she has the nerve to come at my string cheese?
The "how could you eat that?" comment doesn't come from just my mom. It comes from many of my friends who are vegans. They munch on those "aged" stale carrots and eat that dry tofu chicken and ask me how could I eat a burger? How could you eat that?
I wanted to say that and much more to her face; however, I am a daughter of a black mother. If I said that, I would be knocking on my best friends door asking if I could stay there a few nights.
So, I'm going to say what I thought on here, but not toward her, so when she reads this, she doesn't think I'm talking about her.
Vegans, this is unacceptable. I am tired of feeling bad for liking a grilled cheese sandwich. I'm all for helping the environment, but let me help in ways I enjoy. Let me recycle, but never-and I mean never- come for the exquisite taste of a grilled cheese sandwich.
Now, those of you who partake in veganism, props to you. It is a hard task to do, and I respect the dedication. However, I need you to understand that no one cares.
Being a vegan is apart of who you are. I don't go around all day telling people I'm black randomly. No one cares that much about what you're eating. As I think of my dinner tonight, I will sneak into my room and pour bacon bits across it. I ask you, vegans, to be considerate and leave me and my chicken alone.
As for the situation with my mom and her veganism, I pray that one day I walk home and smell the delectable scent of chicken.
Until then, I need to restock my stash of Twinkies and beef jerky under my bed.