VTV nominated for Emmy Awards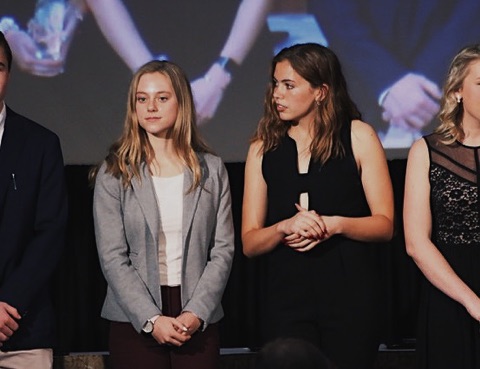 On Oct. 18, the National Student Production Awards were held in Los Angeles and some familiar names were nominated. This award is given out by the National Academy of Television Arts & Sciences and is equivalent to an Emmy.
Two of VTV's videos moved on to the national competition after both videos won Crystal Awards, the Midwest Emmys. Asante Hayes '18 was nominated in the News Cast category for "The VTV show," and seniors Nora Ryan and Josie Bachus were nominated in the Arts and Entertainment/Cultural Affairs category for "Why We March."
VTV adviser Mark Ciesielski said it is "amazing" to see the videos go this far.
"Last year we won five Crystal Pillar awards it was the first time a school had won that many [awards] at this contest and it was really quite an honor," Ciesielski said. "It's a really good feeling. I'm very proud of the kids and their accomplishments."
Ciesielski also said that not only is it nice for the students to win at competitions like this but it's great to get feedback from professional judges.
"The kids get to actually hear what a professional in the business thinks of their videos," Ciesielski said. "So, we'll keep entering the contest and doing our best and hopefully the awards will keep coming."
Ryan, one of the producers of "Why We March," said it was "surprising" that the video made it to Nationals and that her and Bachus, the video's other producer didn't expect this at all.
"While we were making the project I almost deleted it four times. With broadcasting you have to make a project every week. The most time you spend on it is three days. We spent a couple months on this project and it felt like we had been looking at it for so long," Ryan said. "So when we find out that we had been nominated for an Emmy it was a huge surprise and an honor."
"Why We March" is a video about the Women's March in Chicago on January 20th and details why protesters are marching. It is a unique video because the only audio included in the video is what was captured at the march.
"The story tells itself, there's no extra music, voiceover, or any other type of audio. We thought it would be cool to let the people use their voices," Ryan said.
Ryan also said the march "was so much fun" and this helped a lot when they were filming.
"The energy at marches is very infectious and there's a lot of emotion and passionate people. This helped a lot with our project because everyone had something to say and they all wanted to say it," she said.
Bachus said filming the videos was "rather hectic" and it was hard to approach complete strangers for interviews.
"As the day went on I found that people were enthusiastic about sharing their beliefs and it got easier," she said.
Bachus also said she is glad that such an important issue [women's rights] is being recognized and is looking forward to the competitions this school year. Her and Ryan want to make even better videos and take on topics like human rights. They also hope to get another Emmy nomination.
"I'm very proud of all the hard work Nora and I put into this video," Bachus said. "The experiences and knowledge I have gained from being in this program will help me no matter what field I'm studying."