Road to med school even harder than expected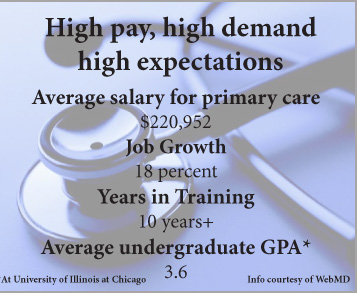 Many teenagers – and their parents – have dreams of a future career in medicine.
But there's more to being a doctor than big paychecks and emergency room romances.
Sandeep Jauhar, author and doctor, published a book in August called Doctored: The Disillusionment of an American Physician.
The author says many people enter the medical field without knowing some of the drawbacks.
In fact, as few as 6 percent of doctors say they are happy with their job, he writes.
Many students here take rigorous science courses hoping for a future career in medical-related professions. Some like the idea of the high pay and available job opportunities.
The salaries are important, but it's important to be passionate as well, says Dr. Keith Hopkins.
"Love what you do. When you love what you do, you're not working even though it's hard work" said Hopkins, who works in Richton Park. "It's nearly impossible to be successful in any challenging career without passion."
Science teacher Matthew Knoepke also stressed the importance of being passionate in any career.
"Persistence is always part of a successful profile and so is curiosity," he said.
Unfortunately, many people enter the medical field because of money. Medicine is among the most highly-paid and prestigious professions in America.
However, it also involves an extreme amount of work. Many people in residency work around 80 hours each week.
Contrary to popular belief, some students welcomed the challenge of long hour work weeks.
"It would be stressful, but I could handle it because I enjoy being kept busy," junior Kayla Reed said.
Trompler said that she would rely on caffeine to keep her alert throughout the day.
"I'd probably keep a really tight schedule for sleep, so I don't fall down or pass out during the day, and I'd probably bring snacks, too, to keep my energy up," Trompler said.
Jauhar also mentions that mainly doctors who perform a lot of procedures are well paid but primary care physicians aren't paid enough.
Another downside to becoming a doctor is the risk of lawsuits. Malpractice insurance has skyrocketed because of multiple lawsuits targeting physicians, hospitals, and others involved in the field of medicine.
Doctors' salaries are also decreasing because of malpractice insurance. This forces them to work longer hours and see more patients.
Doctors also can receive little credit for their hard work on patients. Hopkins mentioned how many patients hold certain expectations of how medical procedures should be done.
Doctors frequently have to explain why they're doing a procedure in a certain way whenever someone critically questions their work.
However, it's important for a doctor to believe what they're doing is right in spite of the criticism they may receive.
Although there are difficulties in becoming a doctor, there are also many benefits.
"I've heard that they will always have a job, they make very good money, and it's very rewarding to help people everyday and know that you saved someone" senior Jillian Trompler said.
Some feelings are better than money.
"One of the things that is most rewarding is the feeling after you help somebody," Reed said.