Dash for the title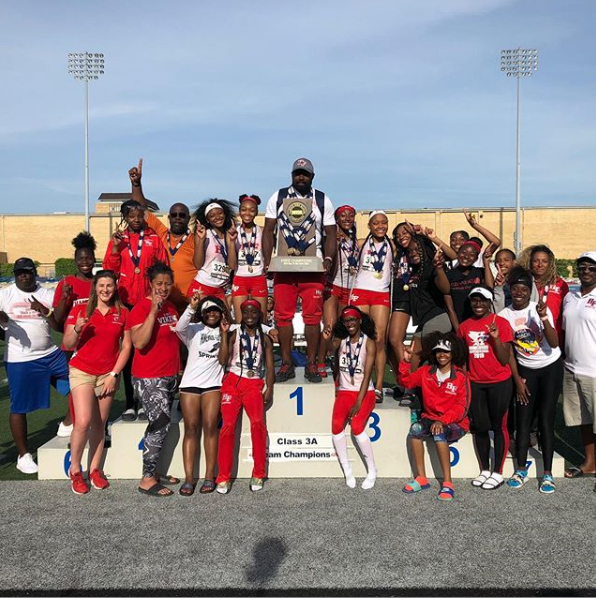 It's time for track to start around the world. Many teams are preparing from high school to the United States team. Everyone is preparing, including the H-F girls team, who began to practice on Jan. 20 and have been hard at work ever since.
The team has been practicing extremely hard to maintain the level of competition that they possessed when they won the state title last year. The entire team, from the ones who didn't make it to state to the ones who were alternates for the state roster, were extremely proud of this title.
"I feel like we honestly earned the track championship. Everyone came to practice every day and worked hard in their events and put in the effort," junior Alexis Stringfellow said.
They also lost some players, including a valuable state athlete in Trelyn Newkirk, but they have a good amount of new talent to the team, including an almost-all-new coaching staff led by head coach Terrance Terry.
There are people, on the other hand, who were state competitors that did not graduate. The State Champion 4×400 relay did not graduate and are all continuing their track and field career this year. They are all proven athletes throughout their careers with the consistent improvement of their times.
Most athletes set their sights on the elusive state title, but that's not how the girl's team works. Some athletes such as senior Amaiya Barnes take their track season one meet at a time to try to improve their time. These time improvements, often referred to as PR's, help qualify for the conference.
"My goals have progressed and changed throughout my high school career. My personal goals are to qualify for state in my 400 and the 4×400. As a team we would love to see broken records in the individual events and relays," Barnes said.
Going to state is a hard task in any sport, but going to state in back to back years is even more difficult due to losing people from graduation and loss of the love of the sport. The team is going to go for a back-to-back championship run, and they are very optimistic that it will happen.
"I'm positive that we as a team will make another state-run and become state champs again. It takes all of us as a group to have the same mindset, hunger, determination and train hard at practice to achieve another win," Barnes said.
The team's first track meet is next Friday at 5 p.m. in the north gym and fieldhouse, and the Lady Vikings are eager to get their season started.