H-F Area Wasn't Made For Walkin'
Bicycling: the underclassman's main mode of transportation. I rode my bike to friends' houses, activities and the library. After getting my driver's license, I left it to collect dust in my garage. But recently, while in quarantine, I found that biking was a mode of exercise I genuinely enjoyed, and took to the streets of the Homewood-Flossmoor like it was my own Tour de France.
It was then that I was reminded how dangerous it can be to be a cyclist—or even pedestrian— in the Homewood-Flossmoor area. 
Dixie Highway near Idlewild Country Club, for example (the fastest route connecting Homewood and Flossmoor's downtown areas) lacks a sidewalk. As a driver, I can see how dangerous it is for pedestrians. As a pedestrian I experience that danger: there's no bicycle lane, and the speed limit is 40 miles per hour. Homewood's small businesses are frequented by Flossmoorians and vice versa— why is there no sidewalk connecting them?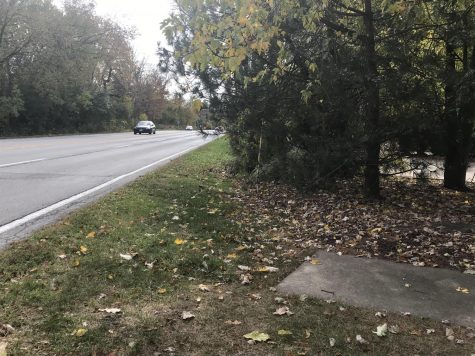 Another dangerous area: Halsted in Homewood. Drivers see pedestrians walking in the grass or even on the road— on the most trafficked street in Homewood. Several stores are accessible only by car, and the intersection at 183rd and Halsted is not pedestrian-friendly. There's no safe way for pedestrians to access the several businesses that provide both Homewood and Flossmoor residents with essential items.  How can the most trafficked street in Homewood not have room for pedestrians? 
And from H-F High School to Cherry Plaza, where the speed limit is 35 mph, pedestrians–often H-F students looking to grab a snack between extracurriculars— can choose between rough gravel or the side of the road. While the gravel provides some sanctuary, it isn't enough to keep our students safe.
But the lack of sidewalks in these places isn't just dangerous— it also raises questions about how accessible we are as a community.
For example, people in wheelchairs often have a harder time wheeling themselves through grass, and people who use canes can't stabilize themselves in the mud. And if an elderly person were to trip on the side of the road, they may struggle getting up, placing them in an incredibly unsafe situation. Those of us who rely on mobility aids and flat surfaces have just as much of a right to safe exercise as those of us who don't. By installing sidewalks in heavily trafficked areas, the H-F area could create more equitable public spaces for all its residents. 
It also discourages environmentally-friendly transportation. On streets like Halsted, where taking the car is far safer than walking, many do just that. By installing sidewalks, we would be lowering our community's carbon footprint. 
For now, pedestrians are stuck choosing between safe, accessible, and environmentally-friendly transportation. But each of those options are crucial to a community that prides itself on equity. Hopefully, the H-F area will recognize just how much these sidewalks help us— and what their residents stand to gain, both individually and holistically, when we install more.