UVA Dean and Former U.S. Treasury Advisor Speaks to IB Students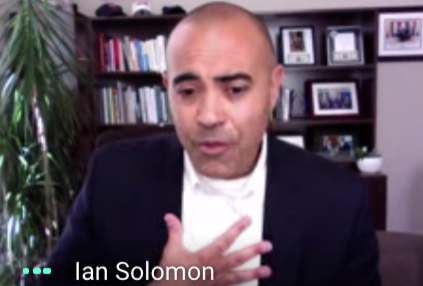 University of Virginia's Dean Ian Solomon met virtually with IB students from H-F on Friday to discuss leadership, race and conflict resolution. 
Prior to becoming University of Virginia's Dean in 2019, Solomon founded SolomonGlobal, an international advisory firm focused on collaboration, served as the U.S. Executive Director for the World Bank Group and "only met Nelson Mandela once." 
Solomon was also a Flossmoor resident, where he befriended H-F history teacher Jon Elfner. "Ian is a fine classical pianist, and he was recommended to me as a keyboard player for a band I run," Elfner said. It was only after Elfner recruited him that he learned of Solomon's political career.
After much deliberation with Elfner as well as H-F science teacher and IB coordinator Matthew Knoepke, Dean Solomon presented five lessons to IB students. 
The first: learning how to deconstruct and shift away from the "us versus them"` ideology. 
"There's something inherent in our psychology that triggers a negative response to people who aren't like us," Solomon said. "How do we create an us that's more inclusive?"
One answer: "plasticity," the second lesson, in which Solomon says that our brains are metaphorically malleable. "We can change…we're not stuck with always thinking the same things. That's why I'm an educator, because I can believe people can change." 
For Solomon, educating is all about helping people evolve and question their biases. "Otherwise, why teach?"
His third piece of advice was that change happens not through confrontation, but through creating a safe space to share ideas. His example: Nelson Mandela peacefully fighting for change in South Africa. 
"The power of making sure people don't end up with a flipped lid when we engage with them—because when we want someone to be creative, or cooperate, or help invent new solutions—was something Mandela understood," Solomon said. 
Fourth, Solomon emphasized empathy in leadership. "We're hard-wired for empathy," he said. "Whether we want to or not, we see other people go through something and our brain starts reacting to it." 
His last prepared lesson for IB students was centered around learning to differentiate our "fast thinking," or our immediate, emotional responses to conflict, from "slow thinking," our logical, thought-out ones. 
"We want to get beyond that automatic, instinctive thinking, because that instinctive thinking often gets us in trouble…[because] it's not really conducive to effective decision-making," Solomon explained.
He then fielded several different questions from students ranging from the most effective qualities for effective leadership to how students can make their communities more equal. To these, he offered nuggets of wisdom such as "judge less, ask more," and that "we are all more than any one aspect of our identity."
Afterward, the students reflected on Solomon's presentation in a discussion led by Elfner and Knopeke.
Junior Janet Amuh  said she appreciated the insight that Solomon provided about change. "By accepting [change], we make our lives a little easier," Amuh said. 
But it was his last question, however simple, that may have carried the most weight for H-F students: what does he—a former diplomat, executive director, advisor to Senator Obama and current Dean of Students at University of Virginia—wish he knew when he was in high school? 
His answer: "it's going to be okay."