Clubs Are Meeting in the Virtual Setting
We all know sports have gone back to competing and practicing, but what about clubs and activities? Well many clubs and activities have been adjusting to meeting virtually and they are in full swing. 
Due to COVID-19, clubs and activities are being forced to meet in the virtual setting, but that is not stopping them from doing some amazing things with their students. There are plenty of activities for students to choose from that will keep them busy after school ends for the day. 
Operation Snowball is still hosting their annual event and you can even learn how to code in Robotics Club! 
Here is a list of activities that are meeting virtually and how you can get involved: 
Skills USA 
Skills USA is a club centered around career and technical classes. It allows students the opportunity to work in wood, welding, and metal shops after school with a more hands-on experience. Their meeting times are posted on 8 to 18 due to that fact they vary every week, but they are always open to new members. Contact William Merchantz if you have any questions. 
Scholastic Bowl 
Scholastic bowl is all about buzzing in the fastest and who knows the most about a variety of subjects including, History, Social Studies, Science, Math, Literature, Art, Music and Pop Culture. They are currently meeting remotely on Mondays 3:15-3:45 p.m. to practice Pop Culture questions and Wednesday 3:15-5 p.m. to practice all subjects.  They have had the opportunity to compete in-person and remotely in various history and geography bees throughout the week. 
H-F Voyager
The Voyager is the voice of students at H-F. It is an awesome way to get involved in the community and learn about what is happening around you. To read the content students release weekly, visit https://hfvoyager.com/. The Voyager is also looking for students to contribute to our Pandemic Diary; you don't even have to be in the class! Contact advisor Rachael Kucharski ([email protected]) for more information.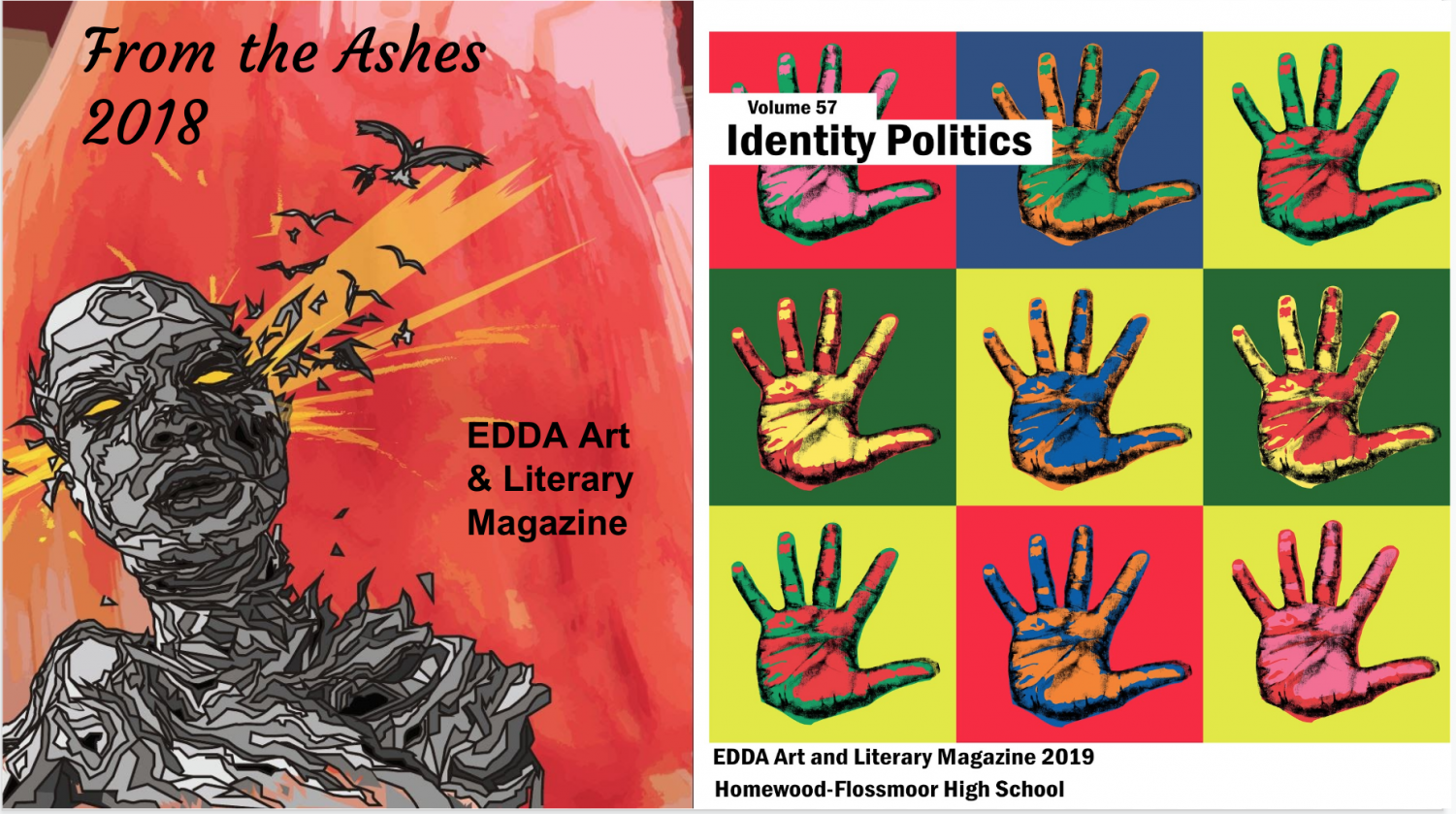 EDDA
EDDA is H-F's creative writing club that concludes the school year with published works in a print magazine. EDDA is looking for writing enthusiasts and artists. For more information about this club, contact English teacher Sahar Mustafah at [email protected]
Robotics Club
Robotics Club meets on Mondays from 3:15-4 p.m. through Google Meet. This year, students are learning to code a virtual robot through VEXcode VR programming and build 14 solar based robots from home. Interested students can check out the following links on the projects we're working on and contact Roberto Suarez at [email protected] with any questions. 
Economics Club 
Economics Club is a space for students who find an interest in economics, finance, business, and other things having to do with money. They analyze things like the stock market, how advertising affects business and how to go about starting your own business. The club meets every other Wednesday from 3:15-4:15 p.m. If you have any questions contact sponsor Kyle Wright at [email protected]. 
Visual Arts Club 
Visual Arts Club allows students extra time after school to learn new techniques, materials and methods of working in the arts. This year sponsors put together art kits with materials related to the seasons that students picked up from the school. The club meets two times a month on google meet. If you have any questions contact Greg Petecki at [email protected]. 
Mathletes 
The Mathletes compete in individual and group competitions which are done in-person on Wednesdays once a month. The club meets Monday and Tuesday from 3:10-3:55 p.m. virtually to prepare for the competitions. 
Friends of the Library 
The Friends of the Library offers students a platform to share their love of reading with others and plan school wide events. The club has been making virtual resources for students to utilize from home, like their new Library Harvest of Holidays page. The Friends of the Library are always open to new members. For more information email Jane Harper at [email protected] or visit the H-F library website.  
Just Like You Club 
Just Like You Club is a social club for students with or without disabilities to come together and have fun together. At their last meeting, students followed a tutorial on how to draw a ghost and they played Would You Rather. The clubs meet every other Monday. If you have any questions contact Katie Rice at [email protected]. 
Operation Snowball 
Operation Snowball is hosting their annual event, with a twist. The event will be virtual this year, but the staff plans on delivering the same community there if it was in-person. The event will be chop full of guest speakers and fun activities. Staff meets every Wednesday on Google Meets. For more information visit the Operation Snowball website. 
Anime Club
Anime club is a club for those who have an interest or curiosity about Japanese animation. Each meeting they watch a theme related anime show/movie that has been chosen by the anime club officers or participate in an activity related to anime.  They also have monthly trivia days, drawing workshops, anime discussions, holiday parties, and more.  Anime club will be a positive and safe place for students to hang out with others that share a similar passion for anime and be able to enjoy themselves. Anime club meets Tuesdays 3:15-4:00 p.m. 
DECA 
Although the future of DECA unfortunately is still unclear for this year, DECA is making the most of it! They have been meeting online through Google Meets a few times already, and despite COVID-19 DECA has stayed one of H-F's biggest clubs.
NHS
This year National Honor Society students will have a reduced amount of service hours because it is hard to get out and complete service hours during the pandemic. They have decided to focus on the Black Lives Matter movement and mental health at their meetings and are trying to gear any service they do towards those as well.
Yearbook
The yearbook staff divided themselves up into different teams in order to get the book done virtually. They have been more creative with the spreads this year in order to fill up the pages in the book and we are having students send in pictures of them at home.
Model United Nations 
Model United Nations focuses on understanding global events and how the United Nations operates. Members participate in weekend conferences simulating United Nations meetings and global historical events. Model UN meets online through their Google Classroom from 3:15-4:00 p.m. For more information contact [email protected] 
Chinese Club 
The Chineses club's purpose is to enrich H-F students' knowledge about China, the culture, the language and the people. This year the club's sponsor, Yin Ding, has been focusing on teaching the members how to cook Chinese dishes. The club meets via Google meet on Thursdays. 
Friends of Rachel 
Friends of Rachel is a kindness/community building club that looks to spread kindness throughout the H-F community. This year they hosted a socially distant ice cream social in the DQ parking lot and they have invited multiple H-F alumni to come back and speak to the club. Friends of Rachel meets via Google Meets every Monday 3:15-4 p.m until it is safe to meet in person. 
National Art Honor Society 
NAHS inspires and recognizes students with an outstanding ability and keen interest in the visual arts. To be eligible for NAHS you must be enrolled and completed at least three semester of a visual arts class at H-F, must be a sophomore, junior or senior, must maintain a minimum visual art GPA of 3.0 and obtain a recommendation from a visual arts faculty member as well as a non-visual art faculty member. The club meets about once a month on Google Meets.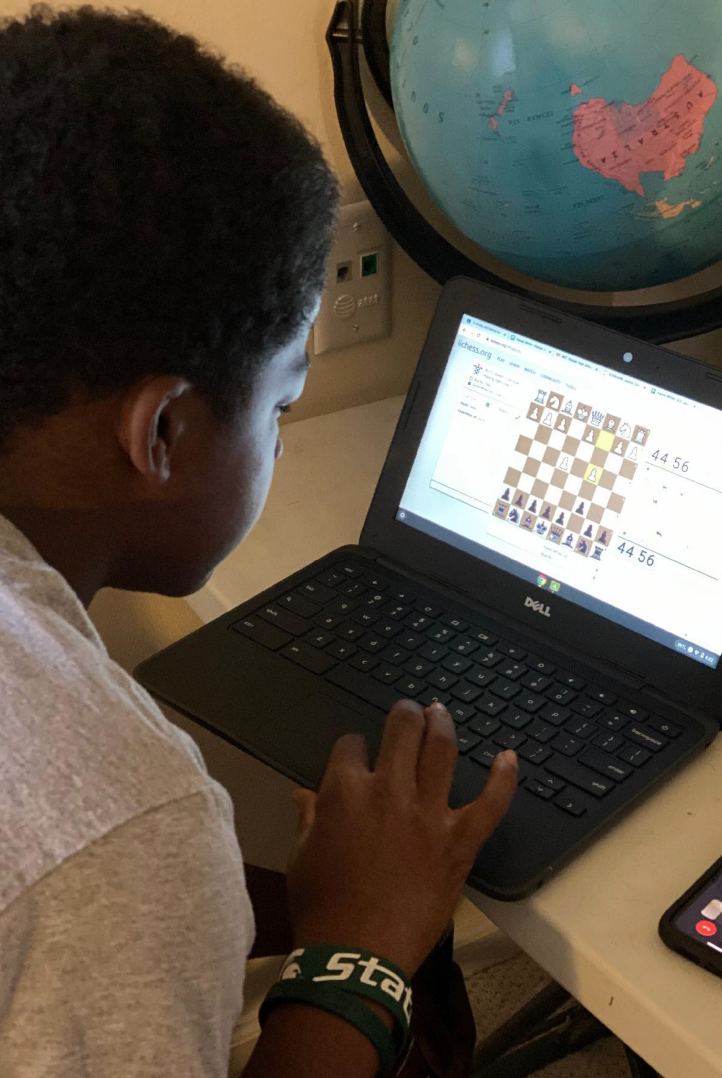 National Spanish Honor Society 
National Spanish Honor society is service based, so students are required to complete service hours that are culturally/linguistically linked to Spanish. So far this year, students offer virtual Spanish tutoring for their peers twice a week on Tuesdays and Thursdays from 3:15-4:15pm. Other events this semester include participating in the Day of the Dead 5K, movie nights, cooking demos of latin foods, a book club to celebrate Hispanic Heritage Month, and more. They plan to sponsor a family for the holiday season, as well. The National Spanish Honor Society meets virtually once a month.
Speech 
The Speech Team is up and running, blending virtual and some limited in-person gathering. H-F hosted its annual Halloween Novice Tournament. Instead of live performances, students from all participating schools submitted video recordings of their speeches. "It's a bit odd for Speechies to speak into a camera instead for a classroom full of audience members, but it also reduced some of those public speaking jitters for many," Speech Coach Kanoa Mulling said. If you have any questions or are interested in joining Speech, email English teacher Janine Stroemer ([email protected]).
Chess Club 
The H-F Chess Club team will compete in a variety of dual meets this year against conferences schools and in the state tournament. Competitors at every skill level are welcome, including novices desiring to learn the game. Chess practices virtually on Tuesdays and Thursdays 3:15-4:30 p.m.
Key Club
Key Club members around the world are learning how to lead and stand for what's right through service and volunteerism. High school student members of Key Club perform acts of service in their communities, such as cleaning up parks, collecting clothing and organizing food drives. They also learn leadership skills by running meetings, planning projects and holding elected leadership positions at the club, district and international levels. Key Club meets on Tuesday at 3:05 p.m. on the club's Google Classroom Meet. To join the Meet, students must sign up to 8 to 18 and pay an annual due ($25.00) that goes to the club.  After signing up, contact Tanya Kluth in order to be added to the Google Classroom roster.
To register or find the calendars for any of the clubs/activities above or at H-F visit Homewood-Flossmoor 8 to 18.