Eat, Sleep, Run, Repeat
Recent successes prepares team for Conference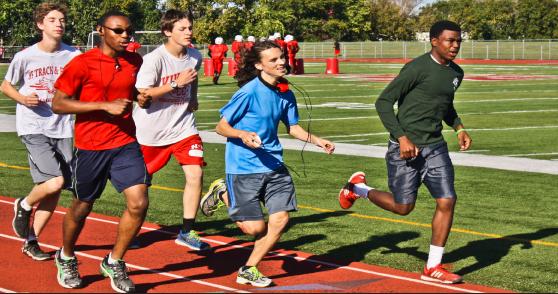 The cross country team is peaking at just the right moment with several best times at the Rich Central Invite this week.
"This meet was by far the best meet we have had all year," Head Coach Carolyn Scanlon said. "I think everyone  on the team set a new personal record."
Sophmore Ben Nevroske dropped more than three minutes off of his previous time. This is a tremendous accomplishment for Nevroske.
Another strong accomplishment came from freshman Stewart King. He  ran a 17:12, burning 45 seconds off of his previous time.
Next up is sectionals for the team.
The Vikings have three freshman  runners on varsity who are really stepping up  and ranked in the Top 7.
"We didn't have a lot of people come out this year,"  Scanlon said. "But we have a great group of kids, and we are performing quite well."
Even though the underclassmen have been doing well, there has been great successes shown from another teammate.
Senior Christian Hoover set a new personal record for this season, running a 16:03.
He also placed 6th overall and received a medal for his seating.
"I eat, live, breath and sleep running." Hoover said. "It's just something that I do."
The team is anxious to see the success they will have in the conference meet this weekend  in Channahon.
"I can't wait to see our top 7 come together and do well," Scanlon said.     "I think we will be really successful."
With high hopes, the team can't help but stay positive. They motivate themselves and their teammates to do the best they can.
"I give my teammates all the credit," Hoover said. "They are truly doing a great   job."
With the upcoming meet, the team goes through practice with a mind set for success. With goals in mind, they are determined to catch and devour their times.
"I'll never let my goals become my limits," Junior Jack Dunlavy said. "I'll always push myself to do better than I did the last time."