The Case for Homewood's Community Garden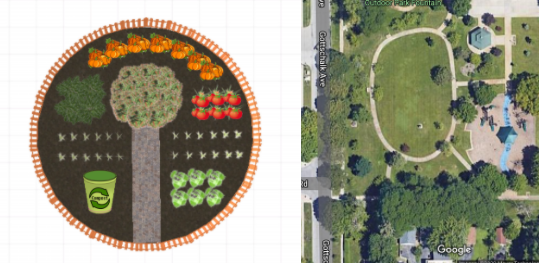 It's finally November. Besides the final few bursts of 70 degree weather, everything indicates that we're in for the long haul that is a Midwest winter: the trees are mostly barren and the sun sets before dinner. But I'm already dreaming about the spring and all the new projects that might start— for example, a community garden in downtown Homewood. 
According to research released by New York University, opening a community garden is "associated with other changes in the neighborhood, such as increasing rates of homeownership, and thus may be serving as catalysts for economic redevelopment of the community." And a group of experts in Denver, Colorado, found that community gardens lead to "social connections, reciprocity, mutual trust, collective decision-making, civic engagement and community building, all important processes associated with improving individual health and strengthening neighborhoods."
In short, implementing a community garden would strengthen the relationships between Homewood residents even further and create a stronger sense of camaraderie throughout our neighborhoods. 
A community garden would also improve nutrition. Growing food items for public consumption would lower barriers to healthy foods "by lowering the cost of produce, increasing access, and eventually increasing acceptance and improving taste perceptions of fruits and vegetables," according to research done by the Institute of Food Research in the United Kingdom. 
And experts from the University of Michigan and Michigan State University found that "adults with a household member who participated in a community garden consumed fruits and vegetables 1.4 more times per day than those who did not participate" and were "3.5 times more likely to consume fruits and vegetables at least 5 times daily."
Furthermore, a community garden would give us the chance to establish a community compost, which would be used to increase the quality of the garden's soil. This would decrease the amount of waste that heads to landfills, making our community more environmentally-friendly. 
It would also provide a chance for a more in-depth nutrition education at our schools. Students visiting the garden on field trips might even be inspired to start their own gardens in their backyards, increasing their access to nutritional foods at home. 
Also, rates of COVID-19 transmission outdoors are far less than transmission rates indoors, and participants would be required to maintain social distancing and wear masks. A community garden would also be a safe way to get outdoors, exercise and strengthen connections with neighbors during this pandemic. 
Besides, a community garden would be aesthetically pleasing, and passerbys would admire its lushness, improving the reputation of our community. A garden at Marie Irwin park, in Downtown Homewood, would make use of the unused land behind the playground and fountain without losing space for sports, community events and picnics, which take place at the adjacent field anyway.
Sure, installing a community garden won't fix obesity or malnutrition, nor will our environmental footprint disappear— but it's a great place to start.