21 Savage Goes Savage on Savage Mode II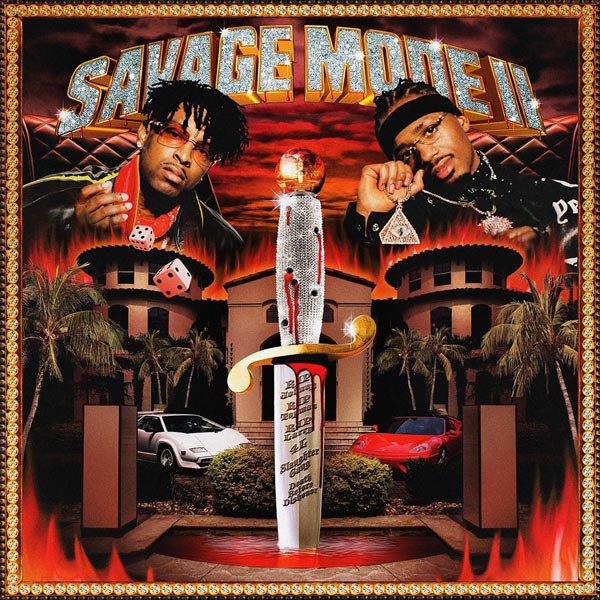 "I just create. I don't have expectations. I just make music," said Atlanta rapper, 21 Savage. 21 Savage's drive for his music and creativity is unmatched when it comes to the modern rap scene. 21's projects have continuously set the bar for Atlanta rap, and have paved the way for those following behind him. 
The 28 year old rapper from Atlanta began his music career after his troubled teen years with consistent problems revolving around his gang affiliation, and being frequently in and out of juvenile detention centers. 21 began rapping in 2013, following his 21st birthday. In 2015, he released his debut mixtape The Slaughter Tape, followed by his second mixtage Slaughter King released just months later. 
Through his rise to fame, he was labeled an "underground hero in Atlanta," which led to larger recognition spreading throughout the Atlanta metropolitan area, eventually reaching his way to major charts. He released his debut joint EP Savage Mode with Saint Louis producer, Metro Boomin in 2016 which made it to number 23 on the Billboard 200. This album included song "X" featuring Future which went platinum in the United States and was 21's first ever platinum record.
After his success with Savage Mode, 21 went on to release his first studio album Issa Album in 2017, along with I am > I was in 2018, and his most recent project Savage Mode II released in October of 2020.
Savage Mode II follows his earlier 2016 album Savage Mode, which dives into a brand new era for 21, and provides the listener with 45 minutes of a progressive story between the 15 tracks as told by narrator Morgan Freeman, who is featured throughout. The addition of this narration told by such an influential icon of the modern day, gives both a comical clash of both personalities and values, along with the intriguing originality 21 presents within the combination of such two different people. I think it's very unique and adds something unseen in other rap albums, as well as providing the listeners with a new concept to how one views the entirety of his project and the message received from it. 
Savage Mode II features various other artists as well, including Drake, Young Thug and Young Nudy, adding the perfect amount of collaboration in the 15 tracks, whilst also keeping originality and individualism. Drake's addition to the song "Mr. Right Now" combines two such unique sounds which is never uncommon from Drake but it is apparent that 21 knew exactly what he was doing by adding him within the track. Young Thug and Young Nudy also showcase an amazing addition to the project, adding Thug within a mellow R&B felt track and Nudy in a more upbeat 
Metro Boomin's contribution to the album creates a perfect balance of sound and lyric. Metro Boomin is known for his talents as a producer, working with other big stars such as Nav, Big Sean and Migos. He adds that unique touch that you won't receive with other producers, and continues to set the bar high for rap producers, especially in his collaborations with 21. I think that the mix of such two amazing talents makes the album stand out.
I think that 21 provides a new vibe for this project overall, and adds just the right amount of uniqueness in order to still keep that original 21 Savage sounds but still being fluid in his creativity. I think this album incorporates more melody and more song-like tracks as opposed to some of his more simpler music that is purely lyric based. I think that really helps with the individuality of the project. 
Aside from the great components of the album, I was expecting a few more features from some bigger artists, given the hype made around the album before it was released. The amount was fine, but it would've been great to hear a few more voices. 
Overall, I would totally recommend this album for anyone who may have not previously been a 21 Savage fan, but are looking to get into him. I think that this project really shows who he is, and his talents as an artist. I definitely give this a 9 out of 10 , and everyone should go give this album a listen.