Caroline Schoen Emerges with Her Stellar Sophomore Season
This past fall was a struggle for high school athletes across the country. Whether it's not getting the recognition with recruiting, a negative impact on athletic performance or not even getting the chance to play, many student athletes have been hit hard by the pandemic. For sophomore cross country runner Caroline Schoen, that was not the case.
After being the number one runner on the varsity team in her freshman year, Schoen had no idea what this season would have in store.
"Coming into this year I was expecting to make some improvement in terms of my time and overall placement, but I didn't expect that I would be winning or placing in the top 5-10 at all my meets," Schoen said. "I also had no clue what would be happening this season or if we were even having a season, so my expectations were fairly low."
Schoen started out the season placing 2nd at the SWSC Pre-Conference meet at Lockport with a time of 18:30, which broke her previous personal record by two minutes. For the rest of the regular season, Schoen blew away the competition, winning every race by over 35 seconds. Although it sounds like a breeze, Schoen ran almost every regular season race by herself.
"Having to run by myself in almost all the races was extremely mentally taxing," Schoen said. "There were very few meets where the course wasn't the greatest and was hard to post good times on, but I had to go into every race with an extreme goal that part of me knew I would never get that time but it was something to keep pushing me."
Varsity head coach Mary Kate Pack has been the head coach for the Vikings since 2014. She highlights Schoen's dedication and effort as reasons for her success.
"Caroline thrives on competition, and I think she likes the challenge of being part of a front pack," Pack said. "If someone tries to make a move, she never lets them out of her reach.  Caroline never settles; you can see that fierce look in her eyes when she's racing!"
Schoen ended the regular season with a personal record of 18:00 and six straight wins. Going into the postseason, the Vikings would have to compete in a tough SWSC Conference field led by the Lockport Porters.
Schoen ended up placing 3rd in the conference with a personal record time of 17:43, and the team placed 7th in the race with an overall score of 206 points.
The Vikings had their next opportunity to bounce back with their regional meet at Andrew on Oct. 24.
"Going into regionals I knew I wasn't running against Lockport, which was who beat me at conference so it gave me a little more confidence," Schoen said. "I went into regionals without a specific time goal and just went out telling myself I had to stay in the front no matter what and try my hardest to stay in that front group of three or four girls."
This time, Schoen would have to battle Lincoln Way Central's best runner in senior Merrigan Allen. All year, the two were neck and neck, with Allen finishing fourth just behind Schoen at the conference meet. The two were looking to edge the other out and take home the regional championship at Andrew.
From the jump, Schoen got out to a fast start ahead of the pack at the half mile. Around the mile marker, the pack of four including Allen made their way to the front with Schoen.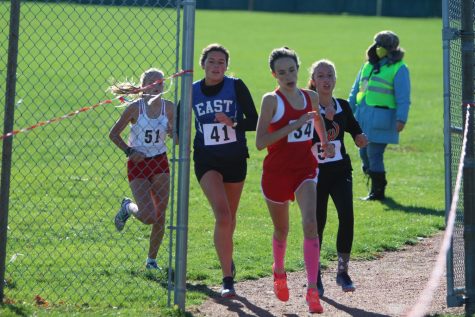 At the mile and a half mark, the pack broke off, with Allen leading and Schoen sitting in second.
"Majority of the race I was behind Merrigan, and honestly she was just staying in front of me and was too far to reach," Schoen said.
Allen was out to a hefty lead in the last mile. That was until the final straightaway. Schoen passed Allen with 100 meters to go and never looked back.
"After I entered the gated area and the last 400 meters, I realized that she was in front of me. I slowly started to pick up my pace and when I made the final turn I knew I could catch her," Schoen said. "I thought about all the training and sprints I had done after every long run and every track workout and gave it everything I had. Once I passed her, I knew I had won the race, and it was the best feeling in the world knowing that all my hard work had paid off," Schoen said.
Schoen was named the 2020 Andrew Regional Champion, running an 18:29.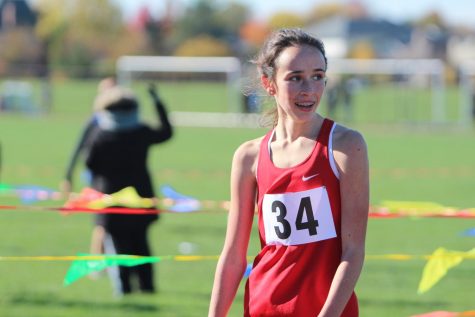 "Caroline's kick was one of the most exciting moments that I have seen in cross country in a long time!" said coach Pack. "I knew she had it in her, and I love that she never doubted herself."
The team placed fifth with 122 points and qualified for the sectional in Normal. Senior captain Lucia Malfeo has been running varsity cross country since the beginning of her freshman year. Over the past two years, Malfeo has built a strong bond and friendship with Caroline.
"It's so awesome to have seen her grow so much in such a short amount of time," Malfeo said. "She really is doing amazing things, and I'm so proud of her."
A week later, the Vikings made their way down to Normal for their final meet of the season. Schoen capped off a historic year placing eighth out of 120 runners with a time of 18:11. As for the team, they placed 12th of 15 teams.
"I would have never thought in a million years that I would be top 10 at sectionals," Schoen said. "Being a state qualifier was always a goal of mine, but I am still in shock by my accomplishments this year, and it was an extreme confidence booster."
With the offseason starting, Schoen will get right back to work, determined for an even better season next fall when hopefully the state meet will return.
"My successes this season have motivated me to work hard in the offseason and continue to prioritize cross country, running and even considering track in the spring," Schoen said. "I am super excited for next year and can't wait to push myself and see what I can accomplish."