Principal Proposes Schedules for Second Semester In-Person Learning
See the most recent update on this story here.
On Tuesday, Nov. 17, H-F's school board held a remote meeting centered around the possible transition from e-learning to hybrid learning at the beginning of second semester.  
Principal Jerry Lee Anderson proposed three schedules that could have students return to hybrid learning the second week of January. Each schedule has students coming to school in-person two times every 14 days. 
Three possible bell schedules were presented at the board meeting. The board will further discuss and vote on plans to return to campus at their next meeting on Dec. 15.  
Students will have the option to stay remote or return for in-person learning for the second semester. They will indicate their preference through a survey that will be sent to parents and guardians after the schedules are finalized.  
Upon return from winter break, the proposed schedule has students and teachers beginning the second semester remotely on Jan. 5. 
Staff will be phased into the building first on Jan.19 and one-fourth of students will be allowed on campus for hybrid learning starting Jan. 25. When it is safe, one-half of the student body will return at a later date. 
When students return to campus, social distancing will be enforced throughout the buildings. In classrooms, students will be sitting six feet apart as marked by the desks. There will be a plexiglass barrier around the teachers' desk where they will stay for the duration of the period. Per the proposed plan, five students are allowed in the classroom at a time.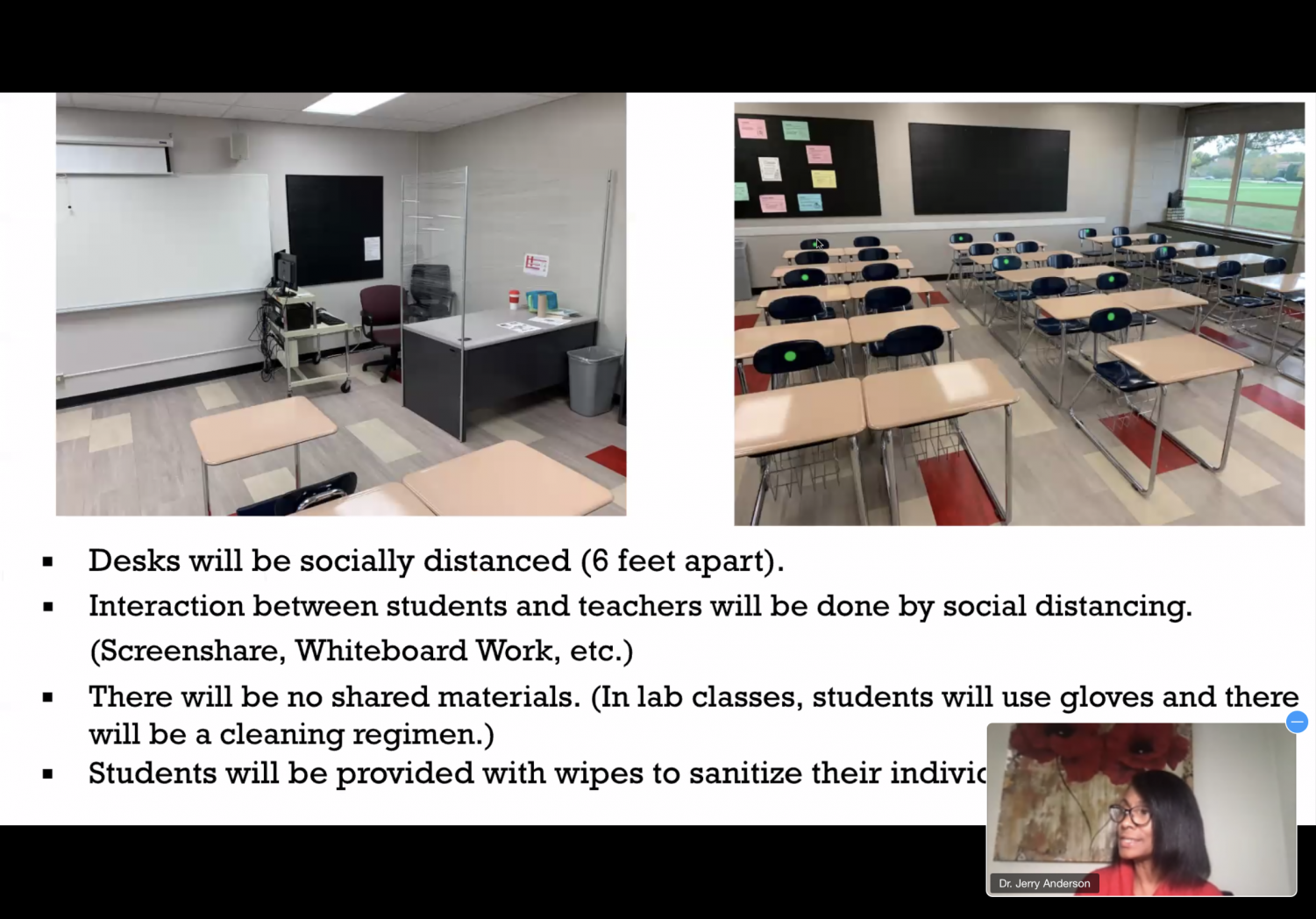 The proposed schedules were influenced by the school's ability to provide a safe space for students to eat lunch. As of now, students will be dismissed from campus mid-day for lunch and will complete the remainder of the school day remotely.
"Lunch would be a grab and go; it wouldn't be an in-school lunch," superintendent Von Mansfield said during the meeting."[We] just couldn't meet that mark to feed kids in the school setting."
While students and staff are in the building they will be required to wear a mask at all times. Students who are unable to wear a mask for medical reasons will have an accommodation.  Students who need an accommodation are required to contact the school. 
Before students arrive back on campus, the school board will take additional steps to ensure the safety of students and staff. 
"For us to meet in person means that we need to have additional staff for the washrooms and things of that nature to make sure we're on top of cleaning [the school] as best as we can," Mansfield said.
On Nov. 30, the school board met in a special meeting. This, along with the proposed schedules, will be addressed on Dec. 15. To watch this meeting, tune in from the H-F website.