No More Mockingbird?
English Department contemplates dropping famous novel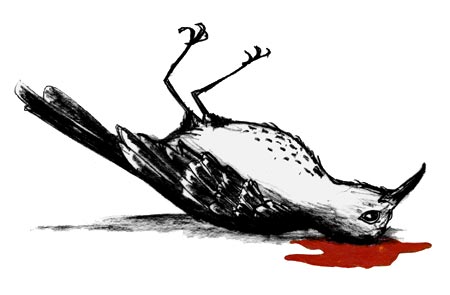 For decades, To Kill a Mockingbird by Harper Lee has been one of America's most popular novels. However, there is a possibility that the English Department is clipping its wings.
No official decision has been made, but English Department Chair Jake Vallicelli says it's time to update the curriculum, which means freshmen may no longer read Lee's classic.
"A couple years ago we looked at our literature, and we felt like there were some pretty serious issues with it," he said. "A lot of it
I would term as Legacy Literature, stuff that we've always taught."
Published in 1960, Lee's coming-of-age story won the Pulitzer Prize.
Loosely based on the author's own experiences, To Kill A Mockingbird tackles issues such as racial injustice, courage, gender roles, laws and rape allegations, all told through the eyes of six-year-old Scout Finch.
English teacher Leah Sauvage says the reason the novel has been taught for so long is because it still hits on issues that are prevalent today.
However, some students no longer see these connections, she said.
"Often, I have students start essays with 'In the time of racism,' not aware of how this affects us in a modern context. So we feel that pulling in a modern novel might help students connect to it in a better way," she said.
Freshman Logan Nordman is one of those students.
"I think we shouldn't have books from the 60's. It doesn't relate to our current lives. It's an outdated topic. Overall, I am for removing the book," he said.
Usually, in freshman year students read, annotate and write an essay on the "classic" novel but freshman Mark Cole doesn't understand the point.
"Most of it is really boring but they have some really good sections and parts. Nothing too special," Cole said.
The most commonly taught high school novel is The Great Gatsby, with To Kill a Mockingbird coming in as number five on the list.
Getting rid of such a classic may sound easy, but it throws years worth of courses and worksheets teachers have perfected out of the window.
"What we don't want to do is replace five books and create a whole new curriculum, which will be a lot of work for teachers. If they get a whole new set, it'll feel like you're a year-one teacher in a lot of ways," Vallicelli said. "So we are going to replace them maybe one at a time, or year by year."
Not everyone agrees with cutting Mockingbird.
"I love To Kill a Mockingbird," senior Renda Proctor said. "It has such a powerful story line that sends you back to older history," Proctor said. "It can even help you with things in life. As far as dealing with situations with courage, you don't always have to do what other people want you to do; you can think for yourself."
Senior Mahalia Gray is on the fence about cutting the novel.
"Yes, it's a good book, and it's been around for a long time , but then again there are better books out there that people can learn from," Gray said. "There's also better books that kids can relate to more now than they did back then. They keep recycling the same old stories. It's bittersweet."
Librarian Jane Harper says that change can be good.
"If it's on the chopping block, I don't necessarily think that's a bad thing because there are so many great books out there.
Change is good, and we've been teaching To Kill a Mockingbird for a long, long time, and it's wonderful but it can freshen things up a little bit."
If the decision is made to cut Mockingbird, it will be made within the next few months.