Marshall Ellis Ranked Number One Sprinter By MileSplit Illinois
Faith Lee , Co-Editor-in-Chief
February 5, 2021
Since the start of his track career at H-F, senior Marshall Ellis has run several races, broken record after record and accomplished many achievements. Despite the season ending abruptly in his junior year, Ellis still managed to become the top-ranked sprinter in Illinois by MileSplit Illinois and commit to Louisiana Tech University.
Ellis worked little by little toward these achievements since freshman year . He joined the track team his freshman year and qualified for the H-F state finals team as an alternate, but ended up running in the 4×200. The team placed third in the state. In his sophomore year, Ellis was able to travel with the track team to California to compete in the ASICS Invitational. 
He credits his success in those seasons to the entire H-F track program.
"My experience with H-F track has been nothing short of fulfilling. I believe that if I didn't go to H-F, I probably would not be as good as I am today," Ellis said. "H-F has top-notch coaches. The track coaches as a whole are so supportive, and they [truly] empower everyone."
H-F boys track head coach Nate Beebe has been the head coach for 10 seasons. He has coached Ellis for all four years of his H-F track career. Beebe admires Ellis' determination, resilience, confidence and character.
"As an athlete, Marshall has been a real student of the game and takes pride in his craft as a sprinter. He came into our program with talent, but he has never rested on his prior success and always looks to get better, which can't always be said of young athletes," Beebe said.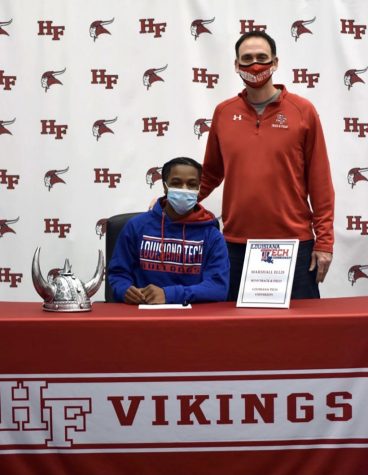 Due to COVID-19, the 2020 track season was condensed to three meets. In those three meets, Ellis qualified for several national meets, and posted record times of 6.88 seconds in the 60-meter, 10.56 seconds in the 100-meter and 21.71 seconds in the 200-meter. These times earned him a number one ranking by MileSplit Illinois.
Since the pandemic caused Ellis' junior season to be abbreviated, it became more difficult to stay optimistic, but he continued to train almost every day in hopes of still being recruited by a college.
"[Recruitment] was a nightmare. I had the most fears over it because I was not receiving the [attention] I know I could've gotten. That was the most discouraging thing for me because I know what I've gone through just to get to where I am."
Ellis did not let his doubt get in the way of his hopes of being recruited, so he began seeking out schools with good track programs as well as schools with his major: engineering.
"I reached out to Louisiana Tech amongst a lot of other schools, and they called me the same day. At Louisiana Tech, they have experienced coaches, and that's what's most important to me. Also, their engineering facilities are brand new, so that pretty much [sealed] it for me," Ellis said.
As Ellis is looking to his career beyond, he is still hopeful to have one final season with the Vikings. He hopes to have one last season with his teammates and set his legacy at H-F in stone.
"I want to rewrite the record board. I have a few records currently, but I want to keep adding to those. Most importantly, I want to lead a good example for my [underclassmen] teammates. I want to be that same example I watched the seniors be my sophomore year," Ellis said.
H-F senior Ugo Anidobu has been a friend and teammate of Ellis for five years. They were a part of the state 4×1 relay team in their sophomore season. Anidobu notes Marshall's dedication and leadership on the team.
"[Marshall] has become a great leader on the track team and to the underclassmen. He is very determined, and never stops until he accomplishes his goals," Anidobu said.
Ellis and the team still have high hopes for this upcoming season. The program hopes the pandemic will not abbreviate another season.
"Our hope is that we have as close to a normal track season, with a state meet, and he and his teammates have the opportunity to experience lifting the championship trophy," Beebe said. "I hope that his best days as an athlete are still ahead of him at Louisiana Tech, and that he remembers his time with us as a positive and rewarding experience that helped to prepare him for future endeavors."
As Ellis prepares for his last season at H-F, he is already setting everchanging goals that he hopes to achieve in his freshman season at Louisiana Tech.
"My goals are to go to the NCAA's. I feel like I have a lot to prove, and I want to put myself on a national stage to give me more motivation," Ellis said. "I'm going to take everything I've been through to get here, and try to push myself to see how high I can go."