COVID-19 and the Environment: Locally, Nationally and Globally
Fish returned to the waters of Venice. Goats were free to wander Llandudno, Wales. Hurricanes ravaged the American Southeast while fires tore through California. The world, for humans, came to a grinding halt. But the friction of the pandemic did not stop Mother Nature, who trudges, relentlessly, on. 
As we focus our attention on COVID-19, we put the pressing issue of climate change on the backburner. Besides, we think, wouldn't a near total halt of communal activity lower global emissions? Hasn't the pandemic—in its strange, unthinkable way— helped?
Short answer: a little! According to this study done by a prestigious group of experts, global carbon emissions were 8.8% lower in the first half of 2020 than in the first half of 2019. In the United States alone, carbon emissions dropped 13.3%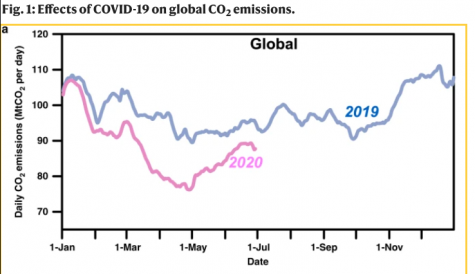 As for energy use, the U.S. Energy Information Administration reports that electricity use decreased at the beginning of the year due to milder winter temperatures, only to be offset by increased demand for air-conditioning and increased electricity use "by more people working and attending classes from home."
That pattern is similar locally too. According to Natalie Hammer, distribution planning manager at ComEd, energy use has not "decreased" as people work from home but instead has "a different peak time and duration."
"[Energy use] has shifted more," Hammer said. But she also said that's more likely linked to the "economic downturn" caused by the pandemic more than anything else.
Jean Ascoli, Income Eligible Energy Efficiency Program manager at ComEd, also said that while "the jury is still out" on the 2020 numbers, it's possible that analysts have yet to account for "double activity," or that commercial buildings, while mostly vacant, are still being cleaned and heated. And all that suggests greater energy use. 
But not all hope is lost. Ascoli said that the "decrease in transportation" has also helped decrease energy use, and Hammer has reason to believe that people are becoming more conscious of residential energy use, pointing to the increase of solar panel applications in 2020. 
"We had a record number of applications last year," Hammer said. "That's huge."
Waste levels have also changed since lockdown. Studies, such as this one accredited by the U.S. National Library of Medicine, suggest that the use of personal protective equipment— single-use masks, gloves and face shields— are contributing to higher levels of waste globally, but hard numbers likely won't be available for at least another year. 
But the relatively short-term environmental changes caused by COVID-19 won't solve a decades-old problem. Instead, experts from this study say "the long-term emissions decreases needed in this century to achieve low arming targets must be based on structural and transformational changes…rather than decreases of human activities." And Ascoli said that realistic energy goals should be based on "better physical and structural change" rather than the uncoordinated structural change the pandemic brought. 
In terms of environmental impact, Ascoli said, "I think you need to look at the whole."
The Voyager contacted Homewood Disposal for more information on waste management but received no response.