Meet the Athlete – Kenyon Haynes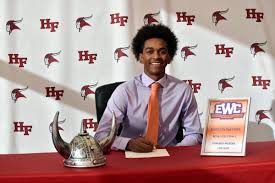 Growing up, senior Kenyon Haynes has always been into sports. He loved the energy and the motivation it gave him, so he ended up pursuing a career for his interest in boys volleyball. He is currently the captain of the H-F Boys Volleyball team, where he is a setter. The life motto he lives by is "everything happens for a reason," so he took that to heart and pursued his volleyball career. Let's learn a bit about Kenyon!
What drew you into volleyball and why did you stick with it?
In 7th grade, my basketball coach at Parker urged us to try out for the volleyball team, so me and a couple of friends tried out and ended up having a lot of fun. When I played, it felt great and everything was new so I just kept playing to see how good I could get.
How do you feel about your season getting cancelled because of COVID-19 last year? Are you excited to get back on the court?
Honestly it was crushing when I found out we wouldn't be able to play last year. I had high hopes for our team last season, but I'm excited we get to show out this season with a lot of the same people we had last year. I'm looking forward to a state championship run.
What are some individual and team goals you would like to set for this season?
Personally, I'd like to set a record for most assists in a season, but with a shortened season I'm aiming to have less than 10 errors. For the team, my ultimate goal is to get a state championship for sure.
How do you feel about your college commitment and why did you choose Edward Waters College?
I'm stoked about my commitment to Edward Waters College. I'd say there are three main reasons for choosing EWC. Firstly, a full ride allows me to take a financial load off of my parents back. Second, I knew I wanted to play at the highest level in college, so a Division-I or Division-II college was my goal. Lastly, as I looked into the school, it was exciting to see so many new things being implemented and I wanted to be a part of that, because small HBCUs often get overlooked, and I just hope to inspire the next generation if I make something of myself after college.
Let's end on a fun question.  Who is your favorite athlete and why?
Micah Ma'a, because I used to watch him my freshman year and he was the starting setter at UCLA. I wanted to play like him and to see how he balances making music, interacting with fans and playing on the USA national team is inspiring to me.