Beyoncé Won Her 28th Grammy; Can She Have Her Flowers Now?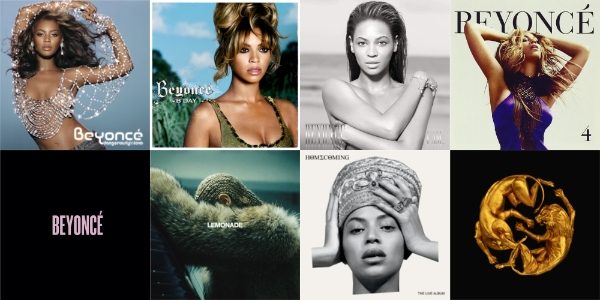 Over the span of her 20 plus year career, Beyoncé has won 28 grammys, 26 Video Music Awards and nine American Music Awards. With these stats alone, she should be easily hailed as one of the greatest artists and performers alive, but sadly people continue to discredit her career and legacy. 
On March 14, Beyoncé won her 28th Grammy award making her the most awarded female artist as well as the most awarded singer in Grammy history. The entire Carter clan reigned supreme at the awards with Beyonce taking home four, her husband Jay-Z and daughter Blue Ivy winning Grammys as well.
Beyoncé led against the competition this year with nine nominations without releasing an album in two years. Along with holding the record for the most Grammy awarded female artist, she is also the most nominated female artist with a total of 79 nominations. 
As Beyoncé's success has grown over the years, debates over whether she is overrated or if she deserves to be regarded as one of the greatest performers have arisen. Critics argue that she's a mediocre singer that's too perfect, too praised, self-absorbed and not as talented as people think. 
While many compare Bey to icons of the past such as Michael Jackson, she has proved to be a second-coming of the late singer while becoming a legend in her own right. 
She began her career at nine years old and began to rise to prominence as the lead vocalist in the girl group Destiny's Child winning three Grammys with the group. She launched her solo career in 2003 with the release of her first album, "Dangerously in Love" and has been on fire ever since. 
Beyoncé became the first artist in history to have six consecutive albums to debut at No.1 in the U.S. As she progresses as an artist, it becomes apparent in her unique, ever-changing sound. Whenever fans and critics think Beyonce has run out of ideas and has become "washed-up," she never fails to reinvent herself.
The release of her fourth studio album, "4" was the beginning of her evolution. After breaking away from the management of her father, young Beyoncé became in complete control of her career and creativity. The album compiled various sounds and influences of R&B, pop, soul, rock, afrobeat and reggae. Bey also became more vulnerable singing about love as well as letting go of her alter ego, Sasha Fierce. 
This set the stage for an era no one anticipated: her self-titled, surprise album, "Beyoncé." While Beyoncé did not invent the surprise drop, she certainly perfected and added her own touch to it. In December 2013, the self-titled, visual album was released with zero promotion. 
There was no anticipation for this album, but that did not stop it from breaking records. The album became her fifth consecutive No.1 and also earned her a Guiness World Record for the fastest selling album on iTunes. This drop completely revolutionized the music industry as many other artists today try to replicate her model and "pull a Beyoncé."
Just when you think Beyoncé has run out of ideas, she always strikes again. In 2016, she released her sixth studio album, "Lemonade." The surprise visual album was accompanied by an hour long film which aired on HBO. "Lemonade" seems to be Beyoncé's most personal album as it explores themes of infidelity, love and being unapologetically Black. 
"Lemonade" topped the charts too at number one and all 12 tracks entered the Billboard Hot 100 making Bey the first female artist to accomplish this feat.
The lead single from the album, "Formation" made a huge, controversial splash at the 2016 Superbowl after it was performed at the halftime show. Many felt that it was not an appropriate stage for the singer to protest police brutality, but this was just the beginning of Beyoncé's rise to advocacy for African Americans. 
Beyoncé has pushed Black and African culture to the forefront with the release of her most recent projects, "The Lion King: The Gift" and short film, "Black is King." As she began building a legacy embracing Black culture, it seems as if she disregards sales and streams and is more interested in uplifting Black culture instead. Most artists don't sacrifice their career for their culture, so in my book, these projects automatically propel Beyonce into the legend category. 
The most defining moment of Beyoncé's career thus far is her iconic Coachella performance. In 2018, Bey became the first Black woman to headline Coachella. She was due to perform in 2017, but had to delay the performance a year due to her unexpected pregnancy. While fans had to wait a year, Beyoncé did not disappoint with her triumphant homecoming.  
In her two hour set, Bey flawlessly sang and danced all while displaying unapologetic Blackness as she paid homage to HBCUs. A year later, Beyoncé released the highly acclaimed performance as a live album as well as a behind the scenes Netflix special. The performance, dubbed by fans as Beychella, solidified Beyoncé as one of the greatest living entertainers as well as one of the greatest performers of all time. 
Beyoncé has proved herself time and time again to be recognized as one of the greats, but some people just don't see it. I'm not sure if they just don't want to see it because of her pro-black or feminist views, or if they really think she's bad. 
There are arguments that she's "overrated" and can't sing. If you argue that Beyoncé can't sing, you must be deaf or just simply a hater. She can sing in four octave ranges and is a trained, star-rated vocalist that can sing and dance live. Even if you don't prefer her as a singer or an artist, it is almost impossible to deny her work ethic and innovative artistry.
If you argue that Beyoncé's "overrated," you're just silly. She still tops the charts and outsells her peers after 20 years of being in the game. She continues to shape pop culture as well as black culture and always remains one step ahead of the competition. 
Beyoncé has broken record after record, won award after award, shattered glass ceilings for African Americans and women and now has 28 grammys. What more can she do to prove herself as one of the greats? Hopefully people will realize her greatness and give her more recognition while she's still here to appreciate it.