Why do celebrities make so much $$ during the Christmas season?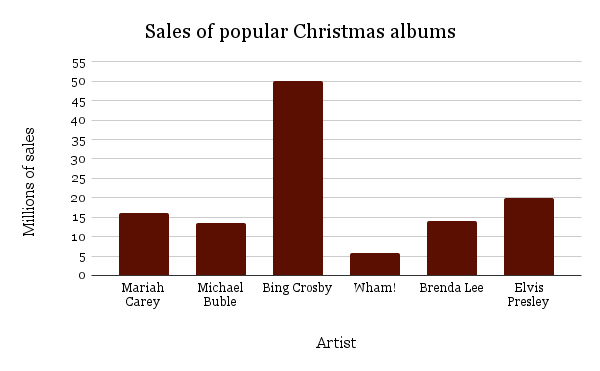 As Christmas approaches, people all around the world can start to feel the holiday spirit, whether it be from the sparkling tinsel or the warm smell of hot chocolate. For me, Christmas spirit is largely marked by those familiar, cheery holiday songs we all know and love. 
One very popular and very huge holiday album is Mariah Carey's "Merry Christmas." The album is famous all over the world and has been highly rated on many mediums. In an interview with iHeart radio, Carey reveals Christmas as her favorite time of year. Makes sense, considering her songs soar to the top of the streaming list as soon as that Christmas spirit settles in.
Of course, Mariah Carey is just one among many singers who market during this time of year. There seems to be a selection of celebrities who take over – to capitalize off, if you will – the Christmas season. 
According to the Celebrity Network, Mariah Carey's "All I Want For Christmas Is You" puts a whopping $600,000-$1 million in her pocket every year. Her song has hit number one on the charts in nineteen countries, and has been on the top ten list in 13 others, as of 2021. Carey was also featured by Amazon in her very own Christmas documentary. And as of Nov. 1, she will be continuing her AppleTv Christmas feature with "Mariah's Christmas: The Magic Continues." (Streaming December of 2021.)
With Mariah Carey's annual income being in the millions, the amount she makes from the Christmas season is roughly 25 percent of that.
However, from a business standpoint, the creation and release of "All I Want for Christmas is You" was absolutely genius. The song was introduced in the film "Love, Actually," and its debut instantly rocketed Carey to the top of the music charts. 20 years later, the song remains one of the best-selling physical singles in music history.
Sifting through my research, almost every article or website I look through, hoping for variation of popular Christmas music, consists of the same top three names: the already mentioned Mariah Carey, famous pop singer Ariana Grande, and Michael Buble.
I took a poll on what Christmas song the students of H-F prefer. The choices were, "Last Christmas" by Wham!, "All I Want for Christmas is You" by Mariah Carey, "Santa Tell Me" by Ariana Grande, "It's Beginning to Look a lot like Christmas" by Michael Buble, "Rockin' Around the Christmas Tree" by Brenda Lee, and "Mistletoe" by Justin Bieber. These six songs were chosen because they were ranked most popular by Fox News Entertainment, and as the poll results show, "All I Want for Christmas is You" is the favorite, with Michael Buble's "It's Beginning to Look a lot like Christmas" in second place. 
Personally, I'll always prefer the classics by artists like Ella Fitzgerald, Frank Sinatra, and Bing Crosby. The sort of vintage instrumentals and olden tone really contributes a Christmas-y feel to any cold winter night. 
But whatever your musical preference is, the Christmas genre is broad, so you'll always be able to find a playlist to fit the feel of your personal home.