The Vikings Tread On
The H-F hockey team is off to a strong start with a record of 7-3 and are currently sitting in second place in the IHSHL. They have made a huge improvement from last year's 0-7 season. 
After struggling last season, things have improved on both sides of the ice. Defenseman Anthony Mancha feels they have improved in multiple areas compared to last year. 
"Scoring goals and our team play. Last year we were just all over the place. And communication like always," Mancha said.
H-F has preached teamwork in order to succeed this season.
"Personally, I think our team's biggest strength is how we all work together really well," center Jack Keigher said. "Whether it's on the ice, or off, we all get along with each other, and that can go a long way. Hockey is a team sport, so it's about looking out for others, not just yourself." 
This year's team consists of more underclassmen. Coach Wayne Perry has been proud of each player's determination and work on the ice so far, and feels it sets them apart from past teams.
"This year's team has really stepped up their game play. We are a younger team of more freshmen and sophomores. They are working hard and having fun," Perry said.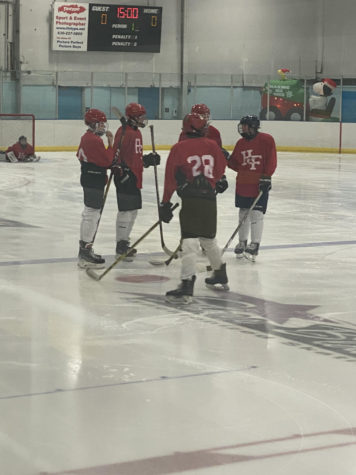 Of course, however, no team is perfect and there are still things that can be improved on before the end of the season. 
"I think us as a team need to work on the effort we give at practices. That's our biggest flaw I've seen so far this season," Keigher said. "Some players go to practices just to be there, but if we want to have a good chance at making the playoffs, then we need to start giving it our all on the ice. Practice how you play."
"We need to work on catching passes and our offense has to work on coming back and helping the defense,"  Mancha said.
Making sacrifices and not being discouraged has been key going into the games.
"Their name may not end up on the scoresheet but making a sacrifice to help our team creates a positive environment with all players working together," Perry said.
Each of the players have high expectations for the season. 
"I think that we're doing very well so far and we're all happy with our performance and my expectations are to make it through the finals and hopefully win," defenseman Luke Romans said. 
Perry, along with the rest of the players are optimistic and hopeful about the rest of the season, and his expectations are for them to "have fun with a competitive edge."
Unexpected complications arose despite the players enthusiasm towards the future of the season.
As of November 19, the future of the rest of the hockey season was up in the air. Due to issues with the coolers in the ice arena, it was uncertain whether the season would continue on, as multiple games had been cancelled because of the melting of the ice.
Luckily, after three weeks of patiently waiting for good news, the hockey season can finally  resume, as they have found a new home arena to use at the Willowbrook Ice Arena. The H-F ice arena won't be back up and running until next August. 
Regardless of these inconveniences, the players have kept a positive attitude, and we're rooting for them the rest of the season.