H-F faces bus driver shortage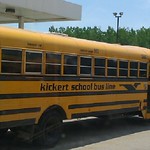 Due to COVID, schools are struggling to find support staff across the country.
According to CNBC, "Shifts that have taken place in the labor market are becoming more pronounced, with many people voluntarily quitting roles just as demand for workers rises as economies reopen." 
They believe that the reason for staffing shortages is because "there is a more permanent loss of workers driven by a large number of older workers taking early retirement."
H-F has been experiencing a similar trend with staffing issues, including having fewer bus drivers to service H-F's bus routes in the mornings and afternoons.
Bus drivers have played a very big role in the H-F community.
For the 20-21 and 21-22 school years, H-F  contracted with the Kickert School Bus Line Inc.
Despite the stress COVID has brought to our school, H-F is ready to meet the demands of students. 
According to transportation director Candice Gage, "The school bus company is contacted on a daily basis to find out if there are any delays or any other issues that may impact service." 
Gage is currently the first line of communication to the bus company. Gage both communicates to the company and manages bus demand and routes.
Students may have felt the bus shortage in having late buses, but this is something that the school is taking into account.
Gage clarifies that if buses are late "staff are notified if buses will be late in the morning so students are not penalized with tardiness due to the bus service." 
Interim Principal James Mitchem acknowledged that weather, too, plays a role in the disrupted or late bus routes. 
"We may have to start [buses] earlier because of [weather] conditions," Michem said. "But we are on the first route with the company."
When it comes to the end of the day dismissal "the bus company is contacted to find out if there will be any routes arriving late for dismissal or if route adjustments need to be made."
Because of H-F's large campus, an issue that may be concerning for parents and students is having enough buses for transport between the buildings during cold, winter days.
"The shuttle buses are only provided on days [when] wind chill temps are at zero degrees or below and are sustainable beyond the first period, " said Gage.  "Shuttle bus drivers will be requested on such days but it will depend on driver availability if they will be provided.  Students should dress appropriately for the winter season, should shuttle buses be made available or not."
Per H-F's contract with the bus company, H-F is not concerned about providing buses when needed. 
Although there's limited time with the drivers, getting buses for the day is easier because there's less of a demand from other districts or schools, according to Mitchem.  This means that it's easier to schedule the shuttles. 
According to  Mitchem, because of the school's contract with Kickert, the school isn't really in control of what goes on on the company's side.
Because of the contract with the bus company, all the school can do is communicate its needs to the company and receive the service. Currently, according to Mitchem, the school is helping the company by advertising for bus drivers.
The Voyager tried reaching out to the Kickert bus company but had no response.