H-F Heads Towards Equity with New Position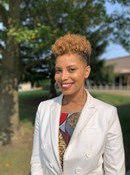 This year H-F, took a step towards making the curriculum more equitable by creating a new administrative position: Coordinator of Diversity, Equity and Inclusion(CDEI).
H-F hired English teacher Catherine Ross-Cook to fill this position, which she started at the beginning of this school year.
 According to Curriculum Director Jennifer Hester, students should see the equity officer as, " someone who will listen to student voices and uplift their voices."
Not only will a CDEI listen, but they'll also make sure the curriculum is important to what students are facing in real life. 
"It's someone who makes sure our policies and our practices are inclusive of all students and are equity-centered," said Hester.
As curriculum director, Hester works very closely with Cook.
"She has the vision for what equity center practices and my whole goal is to support her and empower her in that work," Hester said.
School has been in session for three months and already Cook is feeling ecstatic and optimistic.
 "I am truly blessed to work in this capacity and have the opportunity to effect positive change on a greater scale," Cook said.
With this only being the beginning of her new position Cook tells what new plans she has in store for this year "I am seeking to build relationships with individuals in all areas of our educational space in order to establish a climate of collaboration, trust, and value."
Looking into the future Cook says "I will develop our equity framework from a coherence point of view where equity is not seen as a finite destination, but rather a continual journey towards liberatory practices.
As this is her first year being a CDEI, Cook is open to learning new ways to eliminate bias within H-F.
"Establishing sustainable equity-oriented systems will require that I learn from stakeholders, and prioritize actions seeking to unveil and mitigate oppressive barriers within systems, policies, practices and interactions at H-F," Cook said
Currently, Cook is working on creating an Equity Committee. "Alongside building the capacity of these committee members, I am focused on engaging community members and students whose voices will also take the helm of this work."
Not only is Cook the CDEI she is also the sponsor of Agents of Change. They meet on Thursday in the Library Pit.