This Girl Can Jump
Senior Jayla Stewart ranks among best hurdlers in the nation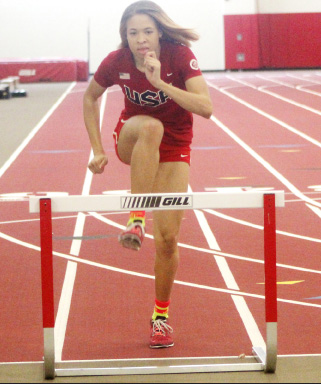 Between being an All-American athlete and performing at the New Balance Nationals in New York, senior Jayla Stewart has a optimistic outlook on this season.
"I placed 5th in the competition," Stewart said. "I did good. The only thing that I needed to fix was my start and that's something I can fix in practice. My main focus right now is the state competition in May."
Stewart is one of the top 100m hurdlers in the country with a personal record of 13.81 seconds. Being a hurdler takes a lot of skill but being the best takes something special.
"Hurdles is my favorite event because I excel most at it," Stewart said. "It lets me show my uniqueness on the track because not many people can do or choose to do hurdles."
Even though Stewart has reached amazing heights with her career in hurdling, she is striving to achieve greater things this season and beyond. On a full athletic scholarship, Stewart will be attending the
University of Illinois Champaign-Urbana in the fall.
"I look forward to performing well at State this year and running in high level track meets," Stewart said.
Head girls track and field coach Robert Assise also has big goals set for Stewart. He knows what she is capable of and wants her to succeed and max out on her potential.
"Jayla is the top returner for the 100 hurdles in the state so we are certainly shooting for a state title," Assise said. "But more importantly we just want her to continue to get better every race. If she does that, we'll be happy where ever that places her."
Hurdles may be Stewart's specialty, but it is certainly not her only strength. Stewart runs the 200 and then is joined by senior Antoinette Broughton, sophomore Aliyah Mickens, and freshman Olivia Oliver in the 4×100 and 4×200 relays.
"I think each of us will do really well this season," Stewart said. "As long as we continue to give 110 percent in every practice and make sure everything is perfect, the possibilities are endless for us."
Being successful in a sport not only builds athleticism but also builds character. Her coaches and teammates realize that she is getting the best of both worlds.
"I think Jayla's leadership skills have definitely developed over the course of her four years," Assise said."We see her as one of the prime contributors in the leadership role for us this year and we are pleased to see how much she has grown."
Oliver, a member of the 4×200, also had nothing but good things to say about Stewart's attitude, work ethic and personality.
"Jayla is extremely funny but also helpful when it comes to certain things," Oliver said. "She always helps me out with my block starts and any aspects of my race to make me a better runner. She gives good advice and is a positive person. When our relay messes up she tells us we just need to get back to the lab, get better and keep it moving."