One Last Spike
The Spiking Vikings are back and better than ever. After winning regionals last year the Vikings look to do the same this year and go even further.
They are currently sitting at 17-7 and look forward to the playoffs this year.
This season has been fun and exciting because of the fan experience that was missed because of COVID, "It's exciting playing good teams at home because the competition is high and we attract bigger crowds against better teams," Trip Shonkwiler said.
Coached by Mark Ciesielski and his coaching staff the boys volleyball squad look poised to crush the competition.
Coach Ciesielski believes his team is so successful for a few reasons.
"Their teamwork and competitiveness, they're a team that does not like to lose and when they keep their energy up and communication on the court they're a tough team to beat."
H-F has faced some tough competition which has prepared them for what comes next. "With as good as our conference is at volleyball we won't face anyone that much better than those teams", long time varsity player Charlie Van Etten said.
This team has been together for awhile and they all have the same mindset.
"We have a team that wants to get better and grow together and that is why we are good, "Van Etten said.
Team chemistry is so important in a game like volleyball where you must communicate with your whole team and everyone focuses on the same thing. Not to mention the fantastic coaching.
"We have a smart and experienced coaching staff this year which has helped to mentally and physically prepare the team to win a championship,'' libero Shonkwiler said.
Newcomer Martell Hines states, "The sport may feel or even look basic but beyond face value it's pretty extensive in strategy and technique on top of the expectations I set for myself as an athlete"
Hines tried out for the volleyball team his first time as a senior and impressed the coaches so much he made the team and was an instant starter.
"His skillsket is perfect for volleyball, he can jump like no one we have ever seen, we thought we can train him enough to be an asset for the team" Coach Ciesielski said.
Hines has been grateful to his teammates and coaches this year so far, "bonding with my teammates and learning from my coaches it's almost as though a new world has taken hold within my life in an explosion that is volleyball." Most importantly, "They're patient with me and encouraging in the times I falter, honestly speaking I think that's why I enjoy this sport as much as I do"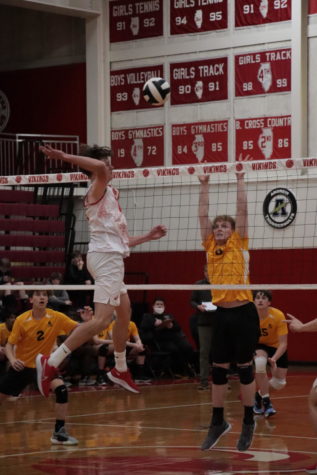 No matter what, this team is ready to go far in the playoffs and we wish our Vikings the best of luck in the postseason. If you want to support this team there is a home game versus Lincoln Way West on Wednesday, May 22!