Boys Track and Field Back in Action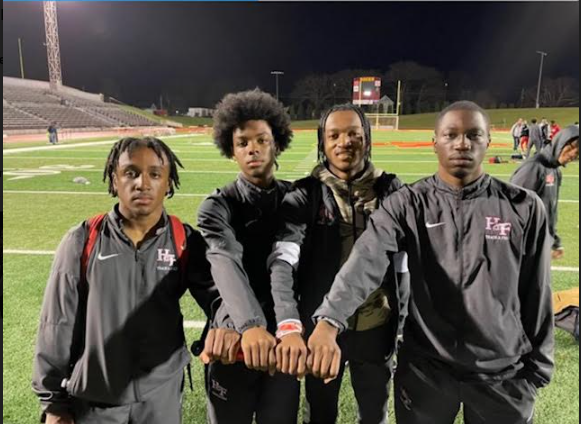 With Spring blooming in the air spring sports have started again. The Boys Track & Field team is back in action and competed Friday, April 22 at the Rock Island Boys Track and Field Invitational. 
Robert Scott III, Taji Mathis Akinremi, Jeremiah Turner and Olusoga Adyiga all placed second in the 4×1 heat in the meet. This was their second time running since the start of the season so the boys opened up about how they've been preparing for this season and where they see this season going. 
Being that this is his last season running with school, Taji Mathis Akinremi looked forward to competing in the outdoor season
"I was very hype because my indoor season was exciting but I felt like I will have the chance to show my full potential during outdoor, especially in the 100 meter," Mathis Akinremi said. 
Mathis Akinremi listens to music in order to lock in before a meet. 
"I listen to music that gives good vibes like Lil Skies to get me into a good mood and not too jumpy," Mathis Akinremi said.
Throughout the season Mathis Akenremi has had big goals that he looks to achieve before the end of the season.. 
"What I see happening this season is me reaching my goals of going 10.5 and break 21 in the 200 meter and have our team get situated where we go down state and go crazy," Mathis Akenremi said
Junior Jeremiah Turner also prepares for meets in a particular way. 
"I wake up and remind myself today is the day," Turner said. "I have my headphones on all day and get mentally prepared." 
Turner opened up about how it felt to run again after coming back from injury last season. 
"I was more excited than anxious," Turner said. "It was my first outdoor meet and it felt like forever since last season, it just felt great to be back and running with the guys." 
After the meet Turner shared how it felt to win. "After I was with the guys celebrating with a gold medal around my neck, it felt great to know that I was back and ready to have a successful season,".
As they have only competed in two meets so far Turner shared his outlook for the season they have ahead.
"I see us being very successful, I think some special things are going to happen come  championship season,"said Turner.
Turner also shared his hopes "My hopes for this season is to be celebrating a state title with my guys,".
Sophomore Olusoga Adeyiga felt excited to run with the top guys in school. 
"I was nervous as usual," Adeyiga said. "When I got on the track it all went away".
The boys have only competed in a few meets so far and Adeyiga shared his aspirations for the rest of the season. 
"For this season I want to see more personal records to my name and a potential new school record, " Adeyiga said." 
Captain of the varsity team,junior Robert Scott III expressed his feelings on meet day. 
"I was anxious the level of competition we had and the way I've been patiently waiting for this outdoor season kept on my toes for the meet," Scott said.
Scott walked us through the day of the meet and everything leading up to his heat.
" We arrived at the school and I knew what time it was, although it was really cold I had to bear through it and get things done,"said Scott.
To lock in and get rid of the anxiety Scott explained what he does.
"Music, music is the key to escaping the real world and to drown out the outside and worry about the inside. I listened to music and watched videos of me and my older friends running," Scott said. 
This season Scotts feels as if  they have a great group of guys and if they all try and practice hard and focus they can do great things.
"I hope to go 21.5 by the end of the season in the 200 meter dash and hold the IL 3A Track and Field State Trophy," Scott said.
Good luck to the boys this season and you don't want to miss them running in person. The Vikings next meet is Thursday May 26, 2022