Lights, Camera, Action!
H-F has its first normal homecoming post-Covid.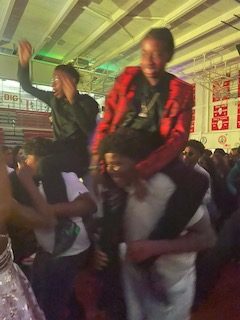 On Saturday, Sept. 24, H-F hosted the first normal homecoming dance since 2019. Held in the south gym and cafeteria, students danced the night away from 7:30-11:00.
The theme of the dance was "Lights, Camera, Action."  The hallway by the Mall Auditorium held a red carpet with a backdrop where students could take pictures and show off their outfits which really gave the night the effect of Oscar night. There was also a 360-degree camera which many students used throughout the night. 
With a new principal came new changes to school policies. Principal Clinton Alexander changed the music policy this year, so students would have more enjoyable nights at all dances.
Alexander explained why he changed the music policy "It was brought to my attention that our extracurricular events weren't widely attended because of the censoring of music."
Alexander wanted to find out more information,  "I thought that the policy could be loosened a little bit, because of the guidelines on the radio," said Alexander. 
He also expressed his thoughts on that matter. "We listen to the radio and our parents let us listen to the radio. The radio censors the songs and they don't allow cursing, therefore, you will be able to hear your top 10, on WGCI, 92.3 and many other stations. If it's good enough for the radio that means the censorship is already there so why wouldn't we be able to do the same thing," said Alexander.  
Alexander then proceeds to talk about the policy before it was changed. "The music policy before we changed it did not include any of the songs you guys were requesting. When it comes to building school spirit we wanna make sure that you all have a voice as to what you want to hear".
It can most commonly be understood that the class of 2023 has been through the most highs and lows throughout their high school career. Tate Bowers, the secretary of class of 2023 student government explained her efforts into making homecoming spectacular. 
" I think homecoming night was absolutely electric. The energy was palpable and it was super clear that everyone was excited to have a regular dance again," said Bowers. 
Being halfway done with the first semester Bowers explained why she wanted the dance to be so memorable for her fellow peers. " I wanted the dance to be memorable for myself and all other seniors, because of our high school experience thus far. We've all seen that things can change in an instant so my fellow student government members took that into consideration".
Like any other homecoming, there was homecoming royalty. The underclassmen were able to run for homecoming prince and princess, while seniors were eligible to run for homecoming king and queen. Kendall Pace and MiCole Cooper won homecoming prince and princess. King and Queen were won by Kamera Kurns and Shane Wagner.
Wagner explained his experience at his last homecoming and what led to his decision to run for homecoming king. 
"I remember when I was in middle school and I came to the homecoming games and saw all of the nominees, and I thought that was really cool and I wanted to be there one day," said Wagner.
Wagner is a senior this year, so he explained his emotions towards his last homecoming. "It was a little bittersweet knowing this was my last homecoming. Out of every year, this was my favorite since everything felt normal again and the spirit here was amazing," said Wagner.
Even though the night was one to remember, Wagner opened up about things that could've been better. "One thing I would change would probably be more decorations in the cafeteria area since a lot of students hung out in that area". 
One thing that students anticipated the most was how the music would sound. "I thought the music was pretty good throughout the dance," said Wagner. With students being able to make song requests maybe this is a step in the right direction for H-F spirit. One dance down and one more for all students to attend. Hopefully, this new music change will benefit the school.