H-F's Unified Soccer Program Dominated at State
H-F's Unified Soccer Teams both competed in the Special Olympics Unified Northern Regional Soccer Tournament on Sunday, Oct. 2 at H-F, and both teams are now headed to the state-level competition.
H-F was named a Champion School during the 2018-19 school year, with unified sports programs such as soccer, eSports, basketball, track and field and a physical education course.
Additionally, H-F was named a National Unified Champion School by Special Olympics in September 2021, making it one of only two schools in Illinois to receive this title twice.
The H-F Unified Soccer program consists of two teams: the Red team and the White team.
This year's Red team consists of athletes Tyler Dean, Michael Gordon, Eliakim Taylor, Zion Willis, Samuel Zinaich, Bruno Terrazas, Jair Taylor, Alyson Harris, Nolan McNellis, Peter Beele and Naomi Fry and coaches Katherine Rice, Brian Garland and Tiffany Mucha. The White team consists of athletes Gianna Bucci, Beverly Nwachukwu, Jasmin Harris, Anaya McCoy, Quinn McNellis, Clinton Holmes, Braylen Baptiste, Jada Barr, Jade Harris, Ireland Kelly, Morgan Mollett and Xavier White and coaches Katie Nieckula, Matthew Raglione, Jen Olumstad and Aimee Veal.
This season, the Red team competed in Division 2 and took 2nd in the Northern Regional Tournament in order to advance to State, ending the season with a record of 2-5.
Additionally, the White team competed in Division 1 and took first in the Northern Regional Tournament in order to advance to State. They ended the season with a record of 6-1.
Not only is it a big deal that the Red and White teams are going to state simply because it's a large advancement in the competition, but also because H-F's Unified Soccer hasn't gone to state since pre-COVID. [Rice]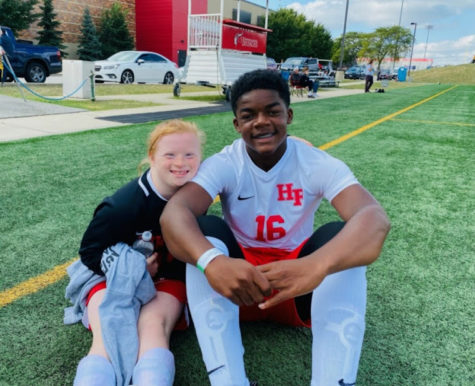 White Team member [Jade] Harris says she believes, "I think we'll do amazing at state because we work well as a team and our partners always spend the game encouraging the peers to keep trying." 
Harris says she "got involved with the unified gym last year and fell in love with the program. I got to know all the students and created a bond with them. The more I got to know them the more love I grew for the program."
Not only does Harris have a love for the Special Olympics program at H-F, but she holds a special place in her heart for special education programs in general, as she wants to "major in special ed in college, so [she] thought, 'why not do everything I can this year.'"
Additionally, Red Team member [Naomi] Fry got involved because "I just wanted a chance to do my part in making H-F a more inclusive community," she stated.
Fry says that since they won gold at their tournament, her "hopes are high when it comes to winning state."
Special Education teacher and coach Rice says that she got into teaching special ed simply because she "love[s] the students, that really got me into teaching special ed and then coaching it and then during the 2020-21 school year, I took over the Special Olympics program.
Rice also feels that "it can be challenging at times [to coach] since we only practice one day a week, but ever since we've unified it's been a lot easier…I can go tell Xavier [White] 'Hey go hang out with these two kids and I'll know that they're taken care of."
On Nov. 5, the teams headed to their state competition in Schaumburg in which both teams were victorious and took the gold for the first time since 2018.
The White team defeated Andrew 3-2 and then Hoffman Estates 4-3. The Red team then beat Matea Valley 5-4 and Nequa Valley in the final 3-2. Following their victories, the teams were led back to H-F with an escort by Flossmoor's police and fire departments.
Rice expressed that "We're just excited and it was definitely a complete team effort. Our unified partners were definitely a huge asset in both competing and assisting our special ed students."
[Eliakim] Taylor also expressed his satisfaction over the wins in Schaumburg.
"It felt awesome to get first place. We had a lot of fun and played both hard and well in order to get this win."