H-F Theater puts on a delightful first show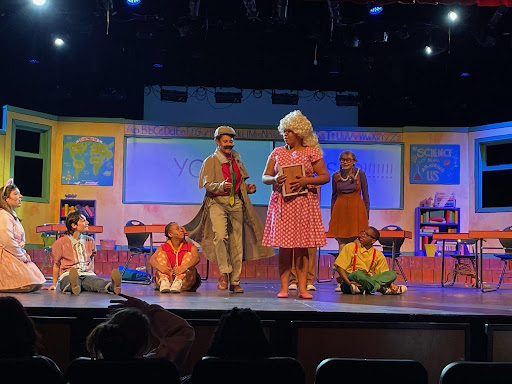 During the last week of September, the H-F theater department put on its annual children's play with their version of "Miss Nelson is Missing." The story revolves around a group of misfit elementary school students whose teacher, Miss. Nelson, goes missing, leaving them with the despicable Viola Swamp. 
Being that the production is aimed towards children, it's a very humorous and heartwarming story. All of the characters have very distinctive and bright personalities that light up on the stage, including a wanna-be Elvis Presley, and a child who cannot stop vomiting. 
The cast got to embrace their inner child, often acting obnoxiously silly to fit the part. Cast member Sam Bouyer said, "The hardest part was that a lot of us were playing children and how you speak and your body language is very different from being a teenager. But that was also one of my favorite parts, just being able to mess around and do what you want."
However, it's not just these memorable performances by H-F students which made the show shine. Accompanying the actors was incredibly well-done lighting, music, and production design by the tech crew.
It's clear that the children's play means a lot to both H-F theater and the community. It's a way for H-F Theater to connect with younger audiences and show them just what kind of experiences lay ahead of them. When asked what makes the children's play so special, cast member Avery Calhoon said, "The children's play is really something special and important. Usually, [in theater] we just perform for whoever wants to see it but with the children's play, we're actually making an impact on other people and we're inspiring these little kids to maybe someday go off and do theater. It just makes them really happy."
The Children's play is the first of five planned theater performances at H-F. Director Anne Calderon said, "Many schools do fewer productions each year and take twice the time to put them up, but not here at H-F.  Due to this level of work, we are able to offer our students more opportunities to be in productions, and they gain the understanding of what professional theater experiences will entail."
The show was in production for just a little over a month. As the show grew closer, the cast was working 3-5 days a week for up to 4 hours. 
It's that level of rigor and dedication which makes the H-F theater program so strong and successful. The mere fact that these students can put on a successful show so early into the year is nothing short of impressive.