History repeats itself
Freshman football hopes to go undefeated, follow in footsteps of Varsity program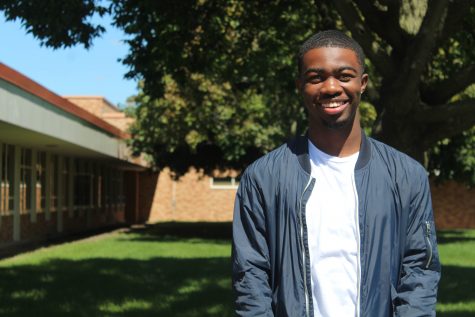 More stories from Langston McHenry
The varsity Viking football team is 7-0, has two shutouts, is ranked #1 in the state and is the favorite to win the 8A state championship this year. Similar stats can be seen with the freshman football team.
"We want to get our guys ready to play varsity football," said Freshman head coach Tom Laba. "I don't care about our record. We have to take care of business in the classroom and trust in each other. If we do that, the record usually reflects that."
His plan is working.
The freshman A team is undefeated and has hosted two shutouts this season.
"By far the hardest game was against St. Laurence," said freshman safety and running back Kellen Williams. "They really pushed us to our limit, but we still got the victory."
In the process of building a quality team, Laba has instilled a sense of brotherhood into his team.
"My goals are to stay healthy and get along with my teammates," said Williams.
This is great news for the future of Viking football because just three years ago, senior members of the varsity team were in a similar situation their freshman year.
"I think that was a real quality group of kids," said Laba. "There are some similarities definitely and if [the freshmen] keep doing what they're doing, the sky's the limit for these guys."
During the 2012-13 season, freshman A team went undefeated and only allowed 35 points to be scored on them the entire season.
"It felt great going undefeated,"  senior center Deangelo Wofford said. "It seemed like we could do no wrong on the field, and the way we were beating teams made it that much better."
Some similarities are the bloodline that play on the team. Jeremy and Justin Correll have both made a name for themselves on the varsity level, but now their brothers look to do the same.
"I kinda look up to them because they set good expectations, because [Justin] played varsity as a sophomore," said freshman running back Jaronn Correll.
In the same respect, the B team has shared much of the same success. With just one defeat in the season, their record sits at 5-1.
"It's just fun to hit people," said freshman inside linebacker Nate Lynn.
And that it is!
Their smothering defense has also only allowed 21 points total, in six games, even though this is a new position for some players.
"The hardest part is probably learning a new position," said Lynn. "I've never played this position before."
If they can keep their focus, this group of freshman can achieve something special, that they'll never forget.
"I say make sure you enjoy freshman football because it'll never be the same," Wofford said. "Work hard, extremely hard, because it only gets tougher as you go up."
Leave a Comment