"Road Warriors"
Kedzie Krazies hope to cheer Vikings to State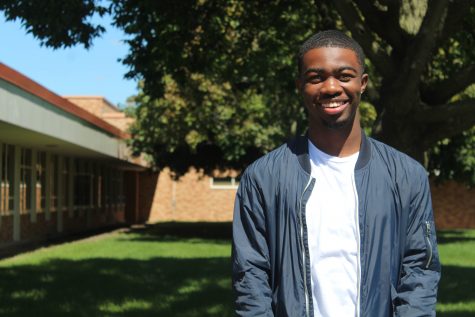 More stories from Langston McHenry
Although there are major differences between high school and professional football, there is one similarity: the passion of the fans who gather each and every game to cheer on their team.
The 12th Man, Big Blue, Bird Gang, etc., are all names of famous NFL fan sections.
On 999 Kedzie Avenue, you can hear the chants and screams of the famous Kedzie Krazies.
Three years ago the Krazies became crazy. With the help of 2015 graduate Cole Tronsen, the Krazies have become one of the most notorious fan sections in high school football.
"We like to keep the tradition ongoing and strong," senior leader Bernie Coderre said. "The team counts on us to come out and support."
During week two of the Viking football season, a plethora of students and family stampeded Stevenson's football stadium to watch the exhilarating 8A state championship rematch.
There was never a quiet moment in the game, even when the Patriots narrowed the Vikings' lead to just seven going into halftime.
"What I think makes us stand out is our fan attendance at away games," junior Clay Smailes. "Especially at schools like Stevenson that are an hour away. We still had 300-plus kids at that game."
Although the Vikings only have three home games on their schedule, fans have sold out each home game this season.
"It's a good feeling knowing it's more than just a few people that support us," senior star running back Devonte Harley-Hampton said. "Having most of the school body there to support us in a game has given the team a big advantage."
On the far left of the bleachers, you can find the loud and fierce chants of the Kedzie Krazies.
During the sold-out week eight matchup against Lincoln Way East, the Krazies lived up to their name to push the Vikings to a perfect 8-0.
"The atmosphere was wild, especially during the first two quarters," senior Caleb Watkins said. "It was a close game, so we had to be as loud as we could and try to give the players a boost to get some points on the board."
After a quiet start, the Vikings quickly channeled their inner beast with the extra boost from the Krazies. Following sophomore safety Justin Hall's fumble recovery and touchdown, the Krazies couldn't resist the temptation to get louder.
"The best part of that game was watching the defense play," Watkins said. "I love to see Kemori [Porter] or Justin Correll get interceptions. Even Justin Hall get a fumble recovery, it gets the crowd going."
With playoffs nearing, the Vikings will need the Krazies support if they hope to bring home a well deserved State championship.
"I expect the fans to be very supportive to the team and brings lots of energy to the field," Harley-Hampton said.
That shouldn't be a problem for one of loudest high school crowds in Illinois.
"I mean we're Kedzie Krazies so we're always turnt," Watkins said. "My message to the team is for them to keep playing like they are. Keep getting off to fast starts and we'll win State. This year is ours!"
Leave a Comment