The life of Lamone
Senior sells business, writes autobiography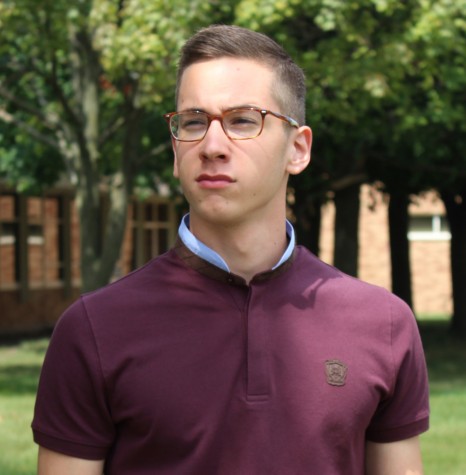 More stories from Thomas Planera
Senior Lamone Stansbury is ahead of his time.
After recently selling his business, he's currently trying to get his book published.
"Get Your Life by Lamone C. Stansbury is a complete synopsis of my life. It tells the trials and tribulations that I went through as a kid and how I was able to overcome the problems in my life," Stansbury said.
Growing up in Blue Island, Stansbury had his fair share of grade school bouts.
"Yeah, I used to take some hits in middle school, especially for being gay. I got called all types of stuff, I got spit on a couple times and it got extremely difficult towards the end," Stansbury said.
However, he overcame these issues almost entirely alone, and found a new way to "open up."
Stansbury wanted to spread his wisdom and help others, so about a year ago, he decided to start writing.
"For me, I made the decision to tell my story because I want somebody, at the end of my book, to be able to take away something from it and say, 'okay, maybe I can apply the information that I've read in his book to my situation in life,'" Stansbury said.
Written as "realistic" according to Stansbury, his narrative reflects his attitude as a person.
"If you didn't know Lamone, you also wouldn't know how wild he is sometimes," said senior Mechai Sharks, Stansbury's best friend. "Lamone has no filter and will say whatever he sees fit."
In addition to personal anecdotes, his book touches upon generational problems facing us today.
"When it comes to communication, especially in this generation, they lack on so many levels. You can't take to Twitter when somebody in your job or career says something about you," Stansbury said. "You can't teach that aspect of maturity to somebody, you get that over time."
Trena Stansbury, Lamone's step-mom, has known Lamone for two years. They have become very close, and Lamone is "the little brother she's never had."
"Lamone has the personality and wisdom of a 30 year old," Mrs. Stansbury said. "Lamone is fearless and unapologetically honest. He has unique insight and everyone needs a friend like that to keep them sane."
Very active within his church, he teaches Sunday school and finance seminars to young teens and warns them about the pitfalls that come with spending money.
"In today's world, it's so amazing that people at my church are really concerned about getting the next pair of shoes or getting these hoverboards yet half of their families can barely afford to pay their rent," Stansbury said. "Would you rather have the next pair of Jordans or would you rather have the lights on in your house? A lot of their parents don't understand the concept of money and that's where I come in."
Stansbury himself dresses humbly; there are no swooshes or silhouettes of basketball legends on his clothes. He truly leads by example.
His passion for monetary modesty stems from managing his own business, Lamone's Cleaning Services, which he started last year.
"I wanted to do something different that most kids won't do, and it's amazing because I hate cleaning my room but I can clean the mess outta somebody else's house," Stansbury said.
After buying cleaning supplies and permits to work in the areas he wanted, Stansbury went door-to-door to build up his clientele.
He managed to maintain 52 clients, 25 of them being regulars.
Operating his business taught him "budgeting, time management, financing, how to allocate money in places that it needs to go and how to save money."
He also ventured into the stock market, investing more than $1,500 of his own money in companies like Ubisoft, where he made returns that almost doubled his initial investment.
Fortunately, Stansbury plans on continuing to hone these skills in college.
He will be attending Southern Illinois University Edwardsville this fall and hopes to complete a 4.5-year master's program in finance and economics.
His dream is to become a hedge fund manager and start a large family.
"He has the personality that will take him far in life. I see Lamone being a successful professional in the world of business," Mrs. Stansbury said. "The sky is the limit for Lamone and you will undoubtedly always find Lamone helping someone, somewhere, 'get their life.'"
Leave a Comment