Say Yes to the Dress
Perfecting sketches, sizing measurements and crafting a personalized outfit is a normal project for senior Alexis Ayala.
Ayala has always had style that goes beyond the everyday trends seen on social media or in school. She tries to match patterns and textures that aren't always viewed as first choice when looking through the closet.
"Every day, the only question I ask myself is if I think the outfit matches or if I like it because that's all that matters when I walk out the house, honestly," Ayala said.
When being a trendsetter, people aren't always going to agree with the work. However, Ayala focuses on the positive and is constantly enhancing her skills when making her own clothes. She has now started planning a big project for the end of the school year that takes up most of her spare time.
"I've actually decided to make my own prom dress because why pay a whole bunch of money and waste a bunch of time looking for the perfect dress that I can make myself?" Ayala said.
Spending hundreds, even thousands of dollars on prom is not unheard of. Making the perfect dress from scratch can be every girl's dream, but the time and energy needed for the perfect outcome can add a ton of stress to the prom list.
"I've started several sketches. Right now, it's mostly about the planning on the overall look I'm going for, so I've been going to look at fabrics and colors that I like just to get a feel for things," Ayala said.
Planning ahead for such a big project is a big part of making sure that it gets done on time. Clothing teacher Courtney Pesha gives some advice on how to plan for the possible problems down the road.
"I always say 'measure twice, cut once' to my students, and with a project as extensive as making a prom dress, all the little things are really going to make a difference" Pesha said.
Ayala has found inspiration in many people around her, whether it be for the design of her prom dress style or simply their raw talent. Style is not something she thinks everyone stands out with, so finding people that match her "outsider" choices is rare.
"I think Alexis is the best dressed girl in the south suburbs when it comes to street style. She truly understands how colors and different fabrics compliment one another, and she's great at piecing together a vast amount of outfits," senior Malik Sims said.
This is not only a hobby for Ayala; she hopes to make it a career in the future and is using this prom dress as the first step.
"I have styled a couple of things for people at the school, like I did a denim jacket for one of my friends recently. Right now, I usually thrift and remake, and I hope after high school I can work on style and design to see where that takes me," Ayala said.
Ayala was also a part of last year's FCLA fashion show and learned a lot that can help her prom dress planning.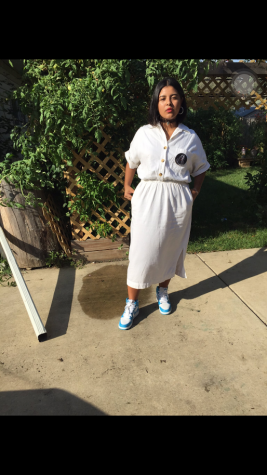 "This dress is a big step for me. After the fashion show from last year, I learned that these things take time. It's best to start early than to be too late. I want to make sure that I come out with a dress I'm proud of, so I'm willing to put the time in," Ayala said.