Supermarket Book Review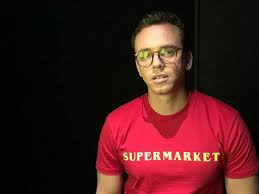 Supermarket follows a recently dumped 24-year-old man named Flynn who starts working in the town's supermarket. Flynn is writing a novel on the side of his part-time job, The Supermarket, talking about all the different types of customers that come into the store and their lives.
Flynn describes his writing as, "This mimics how life is lived, in all its boring and profound uneventfulness."
It shows his life with flashbacks and giving a mixture of comedy and down hearted discussion with the books writing.
The writing is more like a journal entry with a mixture of what's going on in Flynn's mind, never quite knowing what is reality, or if it's just in his head.
Even though there's more to the story than we know, Flynn starts having panic attacks and seeing everything through a glass window.
Things start happening to him that doesn't seem real.
Suddenly, there is a huge turning point in the story, but I won't spoil that for you.
When Supermarket hit stores, Logic released a soundtrack surprising his fans, with music that wasn't him just rapping.
He made an alternative soundtrack, testing the limit of what he could do with his sound.
The music is symmetrical with the books writing.
By playing the audio book at the same time as the soundtrack of every chapter, making it more into the story type feel.
Logic has been working on this book for a couple of years now, surprising his fans with teasers in his mixtape covers.
He made this to show what he can do, that everything he makes doesn't have to be music.
This book surprised me; I usually don't read books that often, but the suspense of the book kept me wanting more.
The book makes you feel like you are in a movie. The storyline shocked me every few pages, the way it changed so quickly was so interesting to watch unfold.
You could tell he was thinking as a rapper when he wrote this book.
I could hear the words coming off the page into a song.
For this being his first book,I really enjoyed this creative novel from him.
With hit songs like Bohemian Trapsody, Can I Kick it (ft. Jabo), Vacation from Myself, and I'm Probably Gonna Rock Your World, Logic shows a different side of himself with a variety of love songs.
Although I really enjoyed the album, it got bad reviews from Pitchfork Reed Jackson saying it was, "A painful journey across guitar music of the past five decades."
With all of the bad feedback of the soundtrack, the book is currently in week two of the New York Times Bestseller list.
As a fan, this book was a great way for him to open up his horizons and show the industries what he has to offer other than just music.
Completely proving he has multiple talents, and he's ready to open up to the world to give his creation.
Making it more personal with his fans, creating more projects for them as fast as he can.
I would recommend this book to people who are open minded to nontraditional reading, especially given this book written by someone who isn't an author.
I feel that people who like thriller and suspense books would love this mentally deranged novel.
It's a great read for people who don't enjoy reading like myself.
Give the book a try and see for yourself.