Harmon's Journey in the Rap Game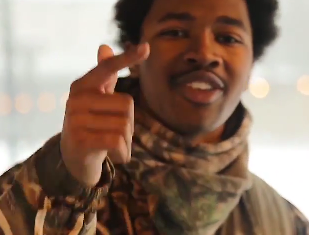 Often people hear about suburban teenage boys having unrealistic dreams of being in the "rap game". However, one senior's dream is slowly becoming reality.
Aspiring rapper Anthony Harmon has been moving to the beat of music since before he was born.
"My mom used to tell me that when she played music while she was pregnant, I would start kicking," the senior said.
From his mother's Michael Jackson records to his father taking him to Jamaican music festivals, Harmon's childhood was filled with music.
"Music was such a big part of my life, sometimes at dinner," Harmon said. "We'd listen to an album instead of watching TV."
Growing up around so much music created a strong passion within Harmon. At 11, he began writing his own lyrics.
"I had sports, but it wasn't the same as creating music. Nothing is the same as creating music," he said.
Last winter, Harmon's passion turned professional when Caleb Thomas, a 2014  alumnus, brought Harmon to his uncle's recording studio, CMPLX 2010.
"I brought him up [to the studio] because I knew his sound was different," Thomas said.
Harmon's introduction to a studio atmosphere changed his view on music-making forever.
"As soon as I stepped foot in there, I thought, 'I need to take this rapping stuff seriously'," Harmon said. "I realized that rapping is the easy part, motivation and drive is what sets artists apart."
As a student and an artist, it was not hard for Harmon to develop a drive to become successful.
"Creating music alone is what motivates me," Harmon said. "A human being can't give off the same feeling music can, it's a fixer."
Harmon's diverse sound and strong passion for music describes a recipe for success.
"It's almost like he's a different person when he's rapping," Thomas said. "His sound is very engaging and original." Harmon's latest EP, The Birth of NaZiXx can be described as a murky, heavy hitting, yet chill sound. Much different from the typical "drill" rap produced by many of the aspiring rappers in the Chicagoland area. With inspiration from west side and south side styles, Harmon's sound is definitely something new.
A little over a month after his album release under the alias, "Akoni The Great", The Birth of NaZiXx gained 2.55k plays in under a month. Along with nearly 1,000 followers on Twitter, it is easy to see that Akoni The Great is gaining much popularity.
Through the support of a few friends that truly believe in him, Harmon is in and out of the studio, furthering his career day by day.
"I critique his latest tracks and spread the word about his latest work by way of social media and word of mouth," senior Josiah McFadden said. "I believe he's the breath of fresh [air] that the often negative rap scene needs."
Harmon's most recent success came on his 17th birthday this past year, when he opened up for the band Swollen Members at Subterranean, a club in Wicker Park.
With a new music video out now, Harmon hopes to continue rapping and eventually obtain a successful career.
"I knew I was gonna go somewhere with this music after everything happened this year," Harmon said. "I can definitely say that my gut feeling is getting nothing but stronger."